A rebounder, also known as a mini trampoline, is a small trampoline typically used indoors, for exercise and physical rehabilitation. A beginner mini trampoline workout has many benefits.
It is designed to provide a low-impact cardiovascular workout that is easier on the joints than other types of exercise, such as running or jumping.
| Rebounder | Description |
| --- | --- |
| Cellercise® Rebounder | 40″ – Tri-folds, Bi-folds, and balance bars available. With Patented Tri-Daptable Spring®. |
| | 40" – quarter fold – heavy-duty springs – $$$ |
| | 40" – bungee – screw-in legs – $$ |
| | Decent quality budget mini trampoline – 36" – $ |
This post contains affiliate links. If you click on and purchase through one of those links, you won't pay a penny more, but we'll get a small commission, which helps keep our website operating. Thanks! As an Amazon Associate, I earn from qualifying purchases.
Rebounders consist of a frame made of metal and a tightly stretched material or mat that is used for bouncing. They typically range in size from 36 to 48 inches in diameter, and are made for indoor use, though some people may use them outside in a protected area.
Some rebounders also come with additional features, such as a safety bar or resistance bands, to provide a more varied workout.
---
---
Health Benefits of Rebounding
Rebounding is a popular form of exercise that has numerous health benefits. These benefits include improved cardiovascular health, increased lymphatic circulation, flexibility, and enhanced balance and coordination.
They can also be used for physical rehabilitation, as the low-impact bouncing can help to improve muscle strength and joint mobility. Rebounders provide low-impact exercise that improves balance, coordination, and flexibility. Even NASA used the trampoline for returning astronauts from space.
Overall, rebounding on a mini trampoline is a fun and effective way to improve your fitness and your overall health.
What Size Rebounder is Best for Adults?
When it comes to selecting the best size rebounder or mini trampoline for adults, it generally depends on the user's height and weight, the area you have in your home, as well as the intended use.
As a general rule of thumb, it is recommended that adults choose a rebounder or mini trampoline with a diameter of at least 40 inches or larger.
This size allows for a wider range of movements, which is particularly important for those who plan to use the trampoline for fitness or rehabilitation purposes.
Weight Capacity
Additionally, it is important to select a rebounder or mini trampoline with a weight capacity that can accommodate your weight, plus any weight that may be added during exercise.
Most rebounders or mini trampolines have a weight capacity of around 250 pounds. However, be sure to check with the manufacture's specifications for your choice of mini trampoline. Select a rebounder that can support your weight safely.
Ultimately, the best size rebounder or mini trampoline for adults will depend on the size of your home, the individual's height, weight, and its intended use.
It is always a good idea to consult with a fitness professional or healthcare provider before starting a new exercise program or purchasing fitness equipment.
Here Are Some Things to Consider before Purchasing a Mini Trampoline.
Size
The size of the trampoline is important, as it should be large enough to accommodate your needs. As mentioned earlier, a diameter of at least 40 inches is recommended for adults.
Storage
Do you plan on using the rebounder daily? Will you need to put it away some time? Are you planning to travel with your rebounder?
Rebounders have options. There are rebounders with folding legs that make it easy to store under the bed, behind furniture, or in a closet.
If traveling with a rebounder, there are models that fold in half or more, making it easy to stow in the car and go! Some models come with carrying cases as well.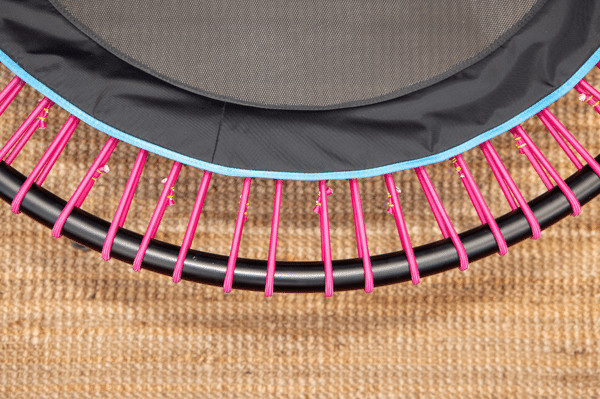 Bungee Cords or Springs
A rebounder with bungee cords give a quiet and soft bounce. However, they may not last as long as a spring. People often complain about the noise a rebounder with springs makes while jumping on it. A bungee cord rebounder is almost silent and can be used day or night without disturbing anyone.
Weight Capacity
It is important to select a trampoline that can support your weight and any additional weight that may be added during your exercise. Many mini trampolines have a weight capacity of around 250 to 300 lbs. Spring or bungee rebounders for adults provide an ideal way to help you exercise your way to weight loss.
Durability
Look for a trampoline that is sturdy and made of high-quality materials to ensure that it will last for a long time. Check out the warranty.
Bounce Quality
The bounce quality of a trampoline is very important. A good trampoline should provide firm and consistent bounce that is comfortable to use, so you can enjoy your rebounder/mini trampoline workout.
A Bellicon rebounder is a bungee rebounder which has a reputation for having the best bounce of all the rebounders! The price reflects its quality, as it is the most expensive rebounder on the market.
Safety Features
Look for a trampoline that comes with safety features such as a sturdy frame, a non-slip surface, and a safety bar. This will help ensure that you can use the trampoline safely and prevent injuries.
Portability
If you plan to use the trampoline in different locations, consider its portability. Look for a trampoline that is lightweight, foldable, and easy to move around. Some trampolines come with cases to protect them during travel.
Price
Mini trampolines come in a wide range of prices, so consider your budget before making your decision.
Overall, by considering these factors, you can select a mini trampoline that is safe, durable, and effective for your needs.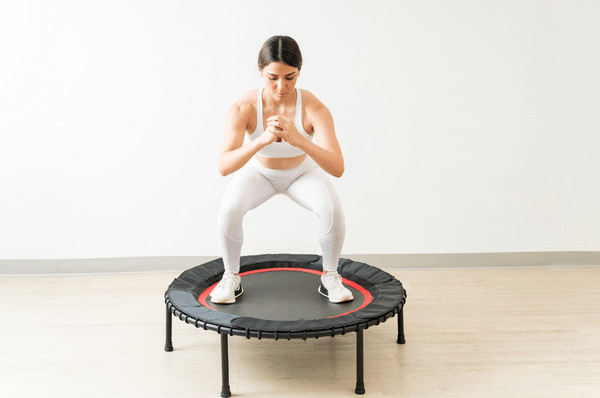 Are Cheap Rebounders Worth It?
Cheap rebounders may seem like a good option if you're on a tight budget. However, there are several factors to consider before making a purchase.
Consideration #1
Cheap rebounders are often made with low-quality materials and may not be as durable as more expensive models. This means that they may not last as long and may need to be replaced more frequently.
Consideration #2
Cheaper rebounders may not provide as much stability or support as more expensive models, which can increase your risk of injury. This is particularly important if you plan to use the rebounder for exercise or physical rehabilitation purposes.
Consideration #3
Cheaper rebounders may not provide a consistent or comfortable bounce. This can make them both less effective and less enjoyable to use. With "less give" in the cheaper model, you are more likely to cause discomfort or injury to your joints.
Ultimately, the decision to purchase a cheap rebounder should be based on your individual needs and budget.
Enjoy the Benefits of a Rebounder/Mini Trampoline in Your Home
A beginner mini trampoline workout has many benefits. If you are looking for a rebounder primarily for occasional use, and aren't concerned with long-term durability or quality features, a cheaper model may be suitable. However, if you plan to use the rebounder frequently or for a more intense mini trampoline cardio workout, it may be worth investing in a higher-quality model that provides greater stability and comfort.
Which One Do You Choose?
A Stamina mini trampoline has a stiffer bounce, however, is great for occasional workouts. It is still possible to improve your health by using the Stamina.
A Bellicon mini trampoline is by far, the premium pick of mini trampoline/rebounders. However, the price tag reflects that as well!
A good middle-of-the-road mini trampoline – rebounder would be the Ultimate Rebounder by Rebound Air or the Leaps and Rebounds mini trampoline.
Select Yours Today!
---
Disclaimer: If you have any concerns or questions about your health, you should always consult with a physician or other healthcare professional. No content on this site should be substituted for direct medical advice from your doctor or other qualified healthcare practitioner. The information contained here is for informational purposes only. It is from my research and personal experience.
---
Related Posts
The 7 Best Rebounders with Bungee Cords for an Unbelievable Workout
Rebounding and Cellulite – Fact and Fiction
Trampoline History Facts and Benefits
The Best Rebounder Mini Trampoline with Handlebars