We all know how important it is to be more active each day. But how do you add more activity into your sedentary job? Do you know how to get more steps a day? Let's look at 29 simple tips to get more steps in a day without even trying.
Physical activity is important if you want to be healthy. One simple and effective way to add more activity into your daily routine is by walking. Even if you have a sedentary job, there are many strategies to use to increase your daily step count.
A Smartwatch or Fitness Tracker
For many years, experts recommend walking 10,000 steps a day. You may think that many steps seems like a lot and you may feel overwhelmed. Begin gradually, and you will be amazed how possible it becomes.
The first tip is – try a smartwatch or fitness tracker. Record your daily steps right from the start, and adapt your daily routine to increase your daily steps.
Simple Tips to Get More Steps in a Day
To make progress, having a goal gives you motivation and helps you stay accountable to yourself.
Make your goal realistic yet challenging. Within a few weeks or months you will be surprised at how much more you have accomplished.
A smartwatch, fitness tracker, or your smartphone app helps you track your current step count for a few days. This will give you a baseline to work from. Gradually increase those steps, working from one goal to the next.
---
SAMSUNG Galaxy Watch
---
This post contains affiliate links. If you click on and purchase through one of those links, you won't pay a penny more, but we'll get a small commission, which helps keep our website operating. Thanks! As an Amazon Associate, I earn from qualifying purchases.
---
Stay Active Throughout the Day
Just because you exercised for 1 hour in the morning, doesn't mean that you can sit the rest of the day. Sitting for long periods during the day still has health risks. Blood clots and back problems are just two problems from sitting too long. Activity during the day, is much better for your muscles and circulation. Your focus and productivity are improved as well.
---
---
29 Simple Tips to Get More Steps in a Day without Trying
1. Take a walk while waiting for your child at after-school activities.
Why wait in the car, on a chair, or a bench. If your child is active, you can be too!
2. Start in the morning!
Get some exercise in the morning. Even a small amount of exercise will circulate oxygen to all the cells in your body and increase your energy. Don't wait until evening when your energy supply is low.
3. Refill your water bottle frequently. Even that will add steps.
Around 60% of your body is water. Your heart, lungs, muscles, and kidneys require water to function well. Even your bones need water. Replenish your water bottle during the day. If you become dehydrated you lose energy, and your mood drops. Stay hydrated!
---
32 oz. Iron Flask Sports Water Bottle
---
4. Walk while talking on the phone.
Activity keeps you focused. Try it, and see if your focus improves while taking phone calls as you walk. You could even arrange a walking meeting over lunchtime.
5. Walking after meals helps regulate blood sugar levels.
According to some studies, walking within one-half-hour of eating a meal, decreases the sugar and fats that accumulate in the blood. It also stimulates the body to burn energy and calories.
6. Park farther away than usual at the mall or grocery store.
If you run errands in the car or drive to work, you can increase your step count by parking farther away from the entrance. This will force you to walk farther. Remember, every step counts! You will be surprised at the increase in your step count. This is one of many simple tips to get more steps in a day.
7. At Break time, walk around the office, the parking lot, or the block.
Instead of looking out the window, go outside and get some fresh air. It will help your creativity, and allow you to focus better when you go back to work.
8. While preparing meals, move more in the kitchen.
Use food prep time as an opportunity to move around while chopping vegetables or stirring ingredients.
9. March in place while watching TV.
Walk in place while watching TV. During the nightly news, or your favorite show, get up and walk the length of your living room and back. The typical person spends 1,835 hours a year watching TV. You could add a significant number of steps to your total in that time!
10. Spend some quality time at a Local Farmers' Market.
Go up and down each row to see what all is available to add to your healthy diet.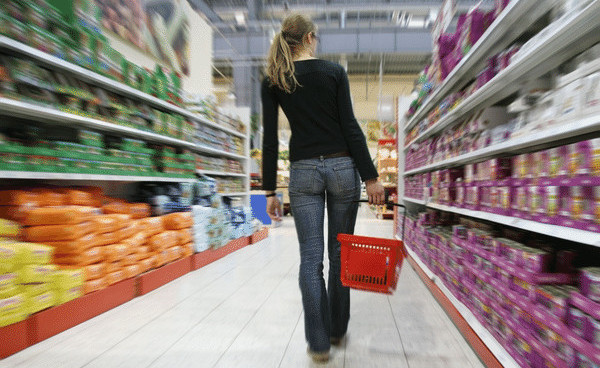 11. Walk up and down each aisle in the grocery store to add more steps.
At the grocery store walk the circumference of the store and up and down each aisle. Add physically-demanding tasks like lifting water bottles from the bottom shelves.
12. Walk around at half-time at sporting events and intermission at theater performances.
You could sit and eat hot dogs at the ball game, but what better way to enjoy the event than to get up and stretch your legs. Breaks to go to the restroom are always a necessity as well.
13. Go for a hike.
There are many fun activities that can help you get in more steps. You can go on a hike to a nearby park or nature preserve. It is fun and a great way to enjoy some fresh air. Plus, you will get some serious mileage – challenge yourself to beat yesterday's step count – as added motivation.
14. Walk to the grocery store to pick up a few items or run errands for a friend.
If your grocery store is nearby, walk instead of taking the car for short errands.
15. Set a reminder to walk several flights of stairs every hour at work or at home.
Take the stairs whenever you can. It is an easy way to increase your step count with minimal activity. This may seem like a small change, but it can add up over time. It is also a great way to get your heart rate up and burn extra calories.
16. Office Tips
Walk to your colleague's desk instead of phoning or emailing. Set your computer or smartwatch for hourly reminders to walk.
---
Budget Smart Fitness Watch to Answer and Make Calls
---
17. Tidy up the house.
You will enjoy a tidy house and get many more steps in while putting things away. Household chores like vacuum or sweeping the floor add steps, dusting and cleaning will add plenty of steps, too.
18. Arrive early to appointments and take the stairs or make some laps around the building.
If you are in a building with multiple floors, make a habit of taking the stairs instead of the elevator whenever possible.
19. Invest in a standing desk.
You would be surprised how many steps you can get in a day by standing up to work!
---
SHW Electric Adjustable Height Standing Desk
---
20. Try a different route home from work or school.
Explore your neighborhood. Take a walking tour of your neighborhood. You may make some new discoveries by foot when you think outside the usual route. Explore new places, plan a walking tour of your local area.
21. Put on some music and dance or take a Zumba class.
There are many fun activities to help you get in more steps. Put on some music and dance away. At home or in a dance class, get inspired to move. Don't turn on music just for background noise. Make it inspiring to get your body moving for extra benefits!
22. Walk and talk with family and friends.
Schedule get-togethers at nearby parks. Walk and talk together and have fun. Play outdoor sports and games with friends and family.
23. Don't use the drive-through.
Walk inside the bank, pharmacy, or restaurant instead of using the drive-through.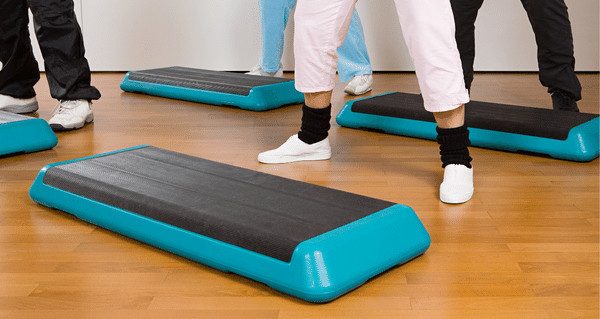 24. Use the treadmill or a stepper to get more steps.
Steppers are inexpensive items you can purchase at a sporting goods store. If you have a treadmill, use it to get in more steps.
25. Start a garden after work.
A backyard patio or a balcony garden provide a chance to maintain greenery. Getting your hands dirty and watching plants grow is relaxing for many people. Additionally you reap the rewards of fresh produce as you put in extra steps caring for your garden.
26. Take the Dog for a walk.
Walking your pets add steps and makes a healthier, happier dog and pet owner, as well.
27. Prioritize outdoor activities.
Bicycle rides, paddle boarding, join recreational groups, capture every opportunity to take steps. Play below-par mini golfing. Look for ways to add physical activity into your hobbies and interests.
28. Get up and stretch!
Stretching periods at work, school, and home help you avoid stiff muscles and keep you more flexible. Sometimes you just need to wiggle!
29. Follow along on YouTube channels to get in exercise and steps.
There are many YouTube channels that promote healthy exercise. Find a favorite and follow along.
Make Small Changes
Remember, every step counts. Over time, small changes add up to a healthier daily routine. You will make lasting habits if you start small and keep up with your good intentions. A small amount of activity throughout the day adds up.
One effective strategy is to set a timer for every 30 minutes or one hour. When the timer goes off, stand up and take a short walk around your office or home. This will allow you to get in some extra steps and give you an opportunity to break up long periods of sitting.
Walk, to Reduce Your Risk of Chronic Disease, Boost Your Mood, and Decrease Inflammation
The American Heart Association recommends 30 minutes of heart-pumping exercise, five days each week.
Dress for the weather. Use sunscreen every day. Avoid walking in the dark. Wear light-colored clothes and shoes and/or reflective clothing while walking outside in the dark. For safety's sake take your phone, and some identification with you as well.
Walk with a walking buddy, plan your walking route. Let someone know where you are going and when you will return if you are walking alone.
Track Your Progress and Celebrate Your Successes
Check your smartphone app, smartwatch, or fitness tracker and see what the results show! At the start you found your baseline. Have you added more steps from your original baseline?
Tracking your progress is an important part of staying motivated. See how your daily step count increases. There are many apps and fitness trackers available that can help you track your steps, distance, and other metrics. This is a great way to monitor your progress and celebrate your successes.
When you reach a milestone, take a moment to celebrate your achievement. This could be something as simple as treating yourself to a healthy snack or taking a relaxing bath, or getting your fingernails done. Celebrate your successes to help you stay motivated and continue working toward your goals.
---
Disclaimer: If you have any concerns or questions about your health, you should always consult with a physician or other healthcare professional. No content on this site should be substituted for direct medical advice from your doctor or other qualified healthcare practitioner. The information contained here is for informational purposes only. It is from my research and personal experience.
---
Related Posts
Recommended Treadmills for Home Use 
Beginner Mini Trampoline Workout Benefits