Whether you are old or young, getting consistent exercise is the main factor of keeping good health. With the myriad of options, there are to use to get exercise. The average person can get easily lost when considering all the possibilities. If you are considering an exercise that is fun, effective, and literally works every single cell and organ of your body, then you should consider a rebounder. What should you look for when buying a rebounder?
What is a Rebounder?
A rebounder is a very small trampoline. It is used specifically for working out/getting exercise. For this reason, it is surprising that there is not a rebounder in everyone's home. Studies show that using a mini trampoline, or rebounder as it is sometimes called, has more health benefits than regular cardio exercise, like jogging or cycling.
When using the rebounder, your body is challenging the force of gravity. The bounce, whether a gentle health bounce or the more aggressive workouts you can do on the rebounder, challenges every cell in your body, and as a result, your entire body, some claim even your eye muscles, become stronger.
---
---
What Size Rebounder is Best?
The rebounder is a very small trampoline, so small it can fit in your living room. The average size is from 36 inches to 52 inches, with a 40-inch rebounder being the more common size. You will need to decide where you are going to be using your rebounder. This will help you decide what size is best for you and your family.
This post contains affiliate links. If you click on and purchase through one of those links, you won't pay a penny more, but we'll get a small commission, which helps keep our website operating. Thanks!
---
What Should You Look for When Buying a Rebounder?
Size
The rebounder/mini-trampoline ranges in size from 36 inches to 52 inches. It depends where you plan on using the rebounder as to which size you should purchase.
You should also consider the size of the mat. What is the jumping surface of the mini trampoline?
The Construction of the Mat
You should look for the jumping surface to be made of a strong quality, supportive Permatron or polypropylene mat.
Frame Quality
You should look for superior strength, all-steel construction, yet light-weight enough for you to move it around.
Springiness/Bounce
This is where the reviews seem to make the biggest difference. Those who purchased a less expensive model noticed the biggest difference. The bounce was not as comfortable or supportive as the better-quality item.
Springs or Bungee Cords
How many springs or bungee cords fasten the mat to the frame?
The Cellersizer uses a patented TriDaptable steel spring. It is the only self-adjusting spring of its kind that adjusts to the weight and height of the person that is jumping.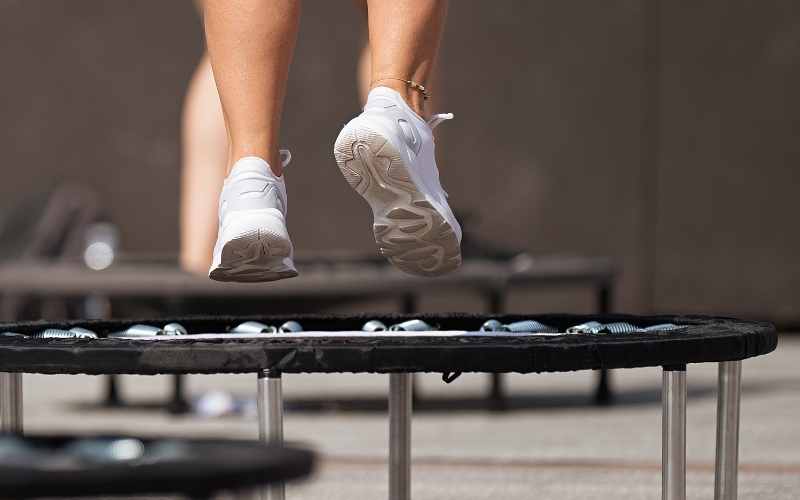 Weight Limit
You will want your rebounder to last for a long time. For this reason, you need to consider the weight limit that is recommended for its use. Many rebounders are rated between 200 to 310 lbs. for their weight limit. Leave an extra 50-pound cushion for safety.
Price
If price is your main concern, then you can go to your local Walmart or sports store and pick one off the shelf. From customer reviews, a quality rebounder was the much better choice. A better bounce was most frequently cited.
If you do some research online, you will soon discover there is a wide price gap in rebounders. The least expensive cost under one hundred dollars, and the price can vary up to a thousand dollars or more.
The thing to consider, are you looking for a substantial long-term investment in a piece of exercise equipment, or are you looking for a toy. Rebounders can have a long-term impact on your health and well-being if used correctly and consistently.
Warranty
You need to check the warranty on the rebounder you plan to purchase. Does it have a lifetime warranty on the frame? The bungee cords and springs may have a replacement policy. On rare occasions, someone needs to change the mat of the rebounder. See what kind of customer service is available with your purchase.
Legs and Feet of the Rebounder
Some rebounders have permanently attached legs, others have legs that screw in, and other rebounders have legs that fold down for easier storage of the unit. You can usually choose which type you prefer.
Does It Fold – Is it Portable?
Some rebounders are made to stay in place. Once you have unpackaged them and set them up, they are meant to stay there, such as in a gym.
Some rebounders are very portable, so you can travel with them and take them wherever you go. They can fold in half, or even in quarters, place in a carrying case, and stow in the trunk of your car.
Just because they can fold, does not mean that they are easy to fold. Some rebounders require two people to safely fold and unfold them.
Extras
Does the rebounder come with extras included?
Complimentary video training that you can stream to your smartphone, PC, tablet, or smart TV?
Removable balance bar? Can you purchase it as an add-on?
Does it come with resistance bands?
A safety cover over the springs?
Sand weights?
---
This post contains affiliate links. If you click on and purchase through one of those links, you won't pay a penny more, but we'll get a small commission, which helps keep our website operating. Thanks! As an Amazon Associate, I earn from qualifying purchases.
Available Rebounders on the Market Today
Check out these rebounders listed below. Just click on the link!
SereneLife Foldable 40″ Mini Trampoline
Darchen 450 lb. – 40″ Rebounder
ReboundAir – 3 models
1- Standard
2- Classic
3- Ultimate
Maximus Bounce and Burn Rebounder
Leikefitness Professional Gym Fitness Rebounder – 50″
---
What is Your Purpose for Getting a Rebounder
Do you want to lose weight? Do you want to get cardio exercise? Or Do you simply want to have some fun? The rebounder will provide all three benefits for you.
---
---
Rebounders and Seniors
Regular exercise is essential in maintaining your youth and vibrancy. Once you confine yourself to the rocking chair, it is "all downhill from there!"
Senior citizens can reap great results from using a rebounder. It is low impact while working every cell in your body. One health benefit includes reversing the symptoms of aging. Regular, consistent exercise is the key, don't sit on the sidelines.
Rebounding is safe, simple, and relatively inexpensive, for any level of fitness to use. From the gentle health bounce to much more. You can put all the enthusiasm into your exercise routine as you like. There are videos to challenge your fitness.
If your balance is an issue, you can purchase a rebounder that has a balance, or stability bar, to help you stay safe.
If you are looking for a fun, safe, simple way to exercise, indoors or out, rebounding is the way to go!
Health Benefits of Rebounding
Strengthens Muscles and Adds Bone Density
Rebounding strengthens all the cells in your body. As people age, bladder control can become a problem. Rebounding helps in improving and alleviate these symptoms.
Improves the Digestive System
Do you have a slow digestive system? Is constipation a problem for you? Rebounding keeps the muscles in your digestive and intestinal system strong and keeps things moving through your system, so constipation should be a thing of the past. As a result, the digestion and waste elimination process work better.
Strengthens Your Heart – Reduce Blood Pressure
Rebounding is a low-impact aerobic exercise that will increase your heart rate. The impact is absorbed by the mat, and it is not as difficult on the body as jogging on the sidewalk. A rebounder with a stability bar is a safe place to exercise and get the oxygen-rich blood flowing to all parts of your body and brain.
Increased Blood Circulation to the Brain
It will help enhance your focus and improve memory.
Boosts Self Confidence
As you improve your strength, coordination, and focus, by regular low-impact exercise on the rebounder, you will find a boost in your self-confidence as your health and well-being return to you. Regular exercise on a rebounder will improve your balance – which will bring back greater self-awareness and self-confidence. You will achieve self-esteem and strength.
They Require Very Little Space
Compared to the amount of space a treadmill, rowing machine, or elliptical machine, a rebounder requires very little space. When you are done using it for the day, you can fold it up and put it in the closet or slide it under the bed. Personally, ours fits quite neatly under the coffee table and we pull it out whenever we want to use it.
It Does Not Require a Lot of Skill to Learn How to Use
The rebounder, or mini-trampoline as it is sometimes called, takes very little skill to master. You can do many movement variations and like Dave Hall, have a lifetime of fun and good health and be in fantastic health all the way into your 60s and beyond.
How Many Minutes a Day Should You Rebound?
Rebounding is an all-inclusive workout. It takes a very short while to raise your heart rate and get you panting.
Find a bounce that is comfortable for you, and exercise for not more than 10 minutes the first time you use a mini-trampoline. See how you feel and gradually increase the time as you see fit.
If you begin without building up your stamina, you may end up with sore knees, a sore back, or just sore muscles all over!
Just as with any exercise, if you start out too hard right away you will feel the strain in your body.
In Conclusion
What should you look for when buying a rebounder? You should look for a solid piece of exercise equipment that will give you many years of satisfactory service.
The rebounder is a small piece of exercise equipment that can fit inside nearly everyone's home. You can get a fantastic workout in just 10 to 20 minutes a day! That sure beats spending hours in the gym!!
Please Leave a Comment
I would love to hear from you. Have you heard of a rebounder/mini-trampoline? Do you think it would be something you would like in your fitness routine!
---
Disclaimer: If you have any concerns or questions about your health, you should always consult with a physician or other healthcare professional. No content on this site should be substituted for direct medical advice from your doctor or other qualified healthcare practitioners. The information contained here is for informational purposes only. It is from my research and personal experience.
---
Related Posts
What Is the Best Mini Trampoline for Your Fitness Routine?
The 7 Best Rebounders with Bungee Cords for an Unbelievable Workout
Rebounding and Cellulite – Fact and Fiction
Trampoline History Facts and Benefits