You are not going to find any other rebounders like a Bellicon. Any Bellicon owner will tell you this. But there are rebounders out there that mimic the Bellicon. Let's look at 3 other rebounders like a Bellicon.
The Bellicon has a quality all of its own, and many people like this rebounder because it is quiet with a very special bounce. The bungee cords are what give it a great bounce, that is quiet. You could rebound beside a sleeping baby and not waken them. You can enjoy your Bellicon any time of the day or night without disturbing anyone. Let's look at some other rebounders that are like the Bellicon.
Rebounders (in a hurry)
| | |
| --- | --- |
| Rebounder | Description |
| | Weight capacity up to 440 lbs. – bungee cords – handlebars available |
| | Weight capacity Soft Bounce 300 lbs./Hard Bounce 600 lbs. – Quality Rebounder with springs – stabilizer bar available |
| Cellerciser | Weight capacity 300 lbs.– a fine rebounder with specially designed springs – stability bar – foldable |
| | Weight capacity 325 lbs. – bungee cords – handle available |
---
This post contains affiliate links. If you click on and purchase through one of those links, you won't pay a penny more, but we'll get a small commission, which helps keep our website operating. Thanks! As an Amazon Associate, I earn from qualifying purchases.
---
Why You Should Get a Rebounder – Mini Trampoline
There are numerous reasons why you should invest in a rebounder (also called a mini trampoline).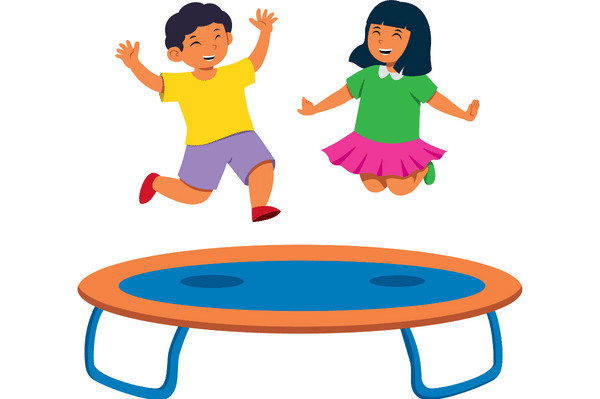 For one thing, they can remind you of jumping on a trampoline as a child. Remember how much fun that was? But more importantly, there are many health benefits as well!
You can get a full body workout without putting extra strain on your feet, legs, and ankles like jogging would do.
The G-Force of a Rebounder
Because of the g-force of the up and down motion, you put less strain on your heart and get better use of oxygen than by running. It provides the ideal condition to cleanse and strengthen all 75 trillion cells in your body. It builds the lymphatic, skeletal, cardiovascular, and muscular systems.
What to Look for When Buying a Rebounder
Size
The first thing you need to consider is where you will place the rebounder. How much room do you have in your home. The average size rebounder is from 36 inches to 52 inches. The 40-inch rebounder is the most common size.
The Mat
A Permatron or polypropylene mat is strong and supportive and should give you years of good service.
The Frame
An all-steel frame should provide you with superior strength, yet you want it light-weight enough that it is easy for you to move it around.
The Bounce
The Bellicon provides the most outstanding bounce. The difference is readily noticed by those who have used more than one brand of rebounder. Those who purchased the less expensive model noticed the biggest difference of a less comfortable or supportive bounce than those who purchased a better-quality item.
The Cellersizer has a patented TriDaptable steel spring. It. It is the only self-adjusting spring of its kind that adjusts to the weight and height of the person who is jumping. The problem is – it is a spring – and is much noisier than its rebounder bungee counterpart.
Weight Limit
To increase the life of your rebounder, you will want to consider the weight limit that is recommended for its use. Many rebounders are rated between 200 to 310 lbs. for their weight limit. Allow an extra 50-pound cushion for safety.
The frame of the Bellicon allows for 440 lbs. This is one reason the Bellicon is so outstanding.
The Price
If price is your main concern, then go to your local sporting goods store or Walmart and pick one off the shelf. As you do your research, you will notice that the Bellicon if by far the most expensive rebounder on the market. But it also provides the best quality product in many people's eyes.
---
Rebounders Like a Bellicon Reviews
Here are the reviews of Rebounders Like a Bellicon.
1. Bellicon
Bellicon is made in Germany, a country that is known to produce quality products. Easy to use, no internet needed! A great way to strengthen all 638 muscles in your body, yet still a low-impact exercise. A variety of five bungee strengths to accommodate body weights up to 440 lbs. It will provide you with a noiseless exercise on a sturdy frame.
Warranty
Lifetime warranty on frame
5-year warranty on the mat
1-year warranty on the bungees
Specs
Frame Sizes Available: 39", 44", 49"
Leg Types Available: Screw in and folding
Stability Bar: is available as extra purchase
Weight Capacity: Adjustable bungees allow weight capacity up to 440 lbs.
Bellicon has bungee cords.
Mat Construction: high-quality woven polypropylene
Manufactured in Germany
---
---
Pros:
Low-impact superior bungee suspension system
Weight capacity up to 440lbs.
Quiet and sturdy
Customizable colors
Cons:
What Customers Say:
If you want the best, then look no farther!
This is so much better than a spring rebounder. It is quiet, I can use it without disturbing anyone.
I have had a Bellicon for 3 years and I use it every day – sometimes twice a day when I have the time!
It beats every exercise I have tried before – great for strength, cardio, agility, balance, low-impact, weight management, and mood enhancer!
---
2. Needak
There are many people who prefer nothing but a Needak rebounder. It is a good quality rebounder and more affordable than a Bellicon. One difference is the Needak has springs with a 2 – 5-year lifespan compared to the Bellicon's bungee cords of 6 months to 1.5 years. Another major difference is the noise level. A Needak noise level is much more noticeable than the silent bungee cords of the Bellicon.
The Needak provides a soft-bounce model with a weight limit of 300 lbs, also, the hard-bounce model with an unrivaled weight limit of 600 lbs.
Many feel that the bounce of the Bellicon is much superior to the bounce of the Needak. All-in-all, noise levels and price seem to be the major deciding factors between these two rebounders.
Warranty
Lifetime warranty on the Needak frame
5-year warranty on the mat
2-year warranty on the springs
Specs
Frame Size: 40"
Leg Types: both screw-in and folding available
Stability Bar: is available
Weight Capacity: Soft bounce model 300lbs – Hard bounce model, max 600lbs.
Needak – has metal springs
Mat Construction: Permatron
Manufactured in USA
---
---
Pros:
More affordable than a Bellicon.
Springs last longer than Bellicon bungee cords.
Frame and legs are foldable.
Cons:
Springs are noisier than bungee cords.
What Customers Say:
Well built, good quality. Great customer service.
The videos that come with it are helpful.
This is exactly what I was looking for!
Great way to get indoor exercise.
Great rebounder, I recommend it! I really like the stabilizer bar.
I wanted to get more exercise, and this is working very well.
My husband uses it all the time, it works really well!
---
3. Cellerciser
---
The CELLERCISE rebounder is advertised to give a full-body workout without weights, barbells and bands. The all-steel construction frame and hinges are designed to last a lifetime. The EXCLUSIVE patented TriDaptable spring is the only self-adjusting spring that adjusts to the weight of the person and the height they are jumping. In only 10 minutes a day, you can increase circulation and absorb more oxygen in every cell in your body. Stimulate muscle mass to grow regardless of your age or fitness level.
Warranty
5-year limited warranty plus 30-Day money back guarantee
Specs
Frame Size: 40"
Leg Types: Folding
Stability Bar: is available
Weight Capacity: warrantee up to 300lbs
EXCLUSIVE patented TriDaptable spring
Mat Construction: patented polypropylene
Manufactured in Taiwan
---
---
Pros:
Comes as a TRI-FOLD that with a carrying case, wheels, and a handle.
Weight capacity of 300lbs.
Less expensive than a Bellicon
Cons:
Requires lubrication of springs 2xs a year
Heavy 34 lb steel frame
Squeeky
What Customers Say:
Regained my strength after having surgery.
Stay active on vacations or business trips.
The springs of the Cellerciser are noisier than the Bellicon's bungees.
The Cellerciser is less expensive than the Bellicon.
---
---
4. JumpSport 550F PRO
This 44" rebounder is unique in that it has arched legs that prevent it from tipping. It is also commercial grade that is used in some gyms. It can easily be stacked after gym classes, or it can be folded in half for storage. The EnduorLast XF Cords far outlast the competition and can easily adjust the bounce tension for each individual weight and performance needs.
Warranty
Residential Use: Lifetime on steel legs and frame; 3-years on mat & EnduroLast 4 Elastic Cords; 1 year on all other components.
Commercial Use: 5-year on steel frame & legs; 18 months on EndourLast 4 Elastic Cords; 1-year on all other components.
Specs
Frame Size: 44"
Non-tip, Arched Legs
Stability Bar: Available as separate purchase
Weight Capacity: 325 lbs.
Bungee Cords – Long-lasting EnduroLast XF Cords
Mat Construction: Polypropylene
Manufactured in the USA
---
---
Pros:
Quiet and Convenient
Non-tipping frame
Light-weight – 25.6 lbs.
EnduroLast cords last 3x -6xs longer than the competition
Cons:
Handlebar is sold separately.
Not much to complain about.
What Customers Say:
Pricey, but worth every penny.
Very sturdy and easy to set up.
I like the product. It is quiet and has a good bounce.
I bought it several years ago, and it is still holding up fine!
I highly recommend the handlebar for anyone with joint or balance issues.
"Gym Quality" piece of equipment. Great for 60 y.o. – 6'2" – 325lbs!
If you are out of shape, start exercising slowly or you may get sore.
I purchased it 3 years ago, still happy with it, easy to fold and store, extremely sturdy. I'm glad I purchased the JumpSport with the larger jumping area.
---
Rebounders Like a Bellicon FAQ's
What Type of Exercise Can You Do on a Rebounder?
There are three types of bounces that work wonders on your body.
The "Health" Bounce, is done by gently bouncing without lifting your feet from the mat. It provides a low-impact move to quickly get your blood moving, and your heart racing.
The "Aerobic" Bounce is a high-intensity aerobic exercise – like jogging (running) in place on the rebounder.
The "Strength" Bounce involves jumping as high as you can to strengthen your muscles and bones and moves the most amount of lymph in your system.
---
What Bungee Strength Shall I Get?
The bungee strength depends on your weight. The bungee strength is important because too soft may allow you to bottom out (hit the floor), while too heavy won't absorb as much of the impact.
---
Is Rebounding Really Low-Impact?
YES! If it goes up, it must come down. If we jump up and down on concrete, our body absorbs all the impact. If we jump up and down on a rebounder, the rebounder absorbs much of the impact that would otherwise be hard on our joints.
---
Conclusion
A Bellicon is more than double the price of a Needak. The bungee cords are silent while jumping, however, both rebounders have received positive reviews for their bounce. Bellicon bungees are quieter, Needak springs have greater longevity.
The Cellerciser mini trampoline is a quality rebounder, the most undesirable part is the noise it makes from the springs. The specialized springs of the Cellerciser do add to the user's exercise experience.  
The JumpSport has a lot going for it. It is in a similar price range as the Needak, and Cellerciser and is less expensive than a Bellicon yet has the quiet bungees that last significantly longer than the Bellicon.
In the long run, most people will say that the Bellicon has the best "feel in the bounce".

Rebounders Like a Bellicon
Now the decision is up to you, which one will you choose? A Bellicon or one of the rebounders like a Bellicon?
---
Disclaimer: If you have any concerns or questions about your health, you should always consult with a physician or other healthcare professional. No content on this site should be substituted for direct medical advice from your doctor or other qualified healthcare practitioner. The information contained here is for informational purposes only. It is from my research and personal experience.
---
Related Posts
The 7 Best Rebounders with Bungee Cords for an Unbelievable Workout
Rebounding and Cellulite – Fact and Fiction
Trampoline History Facts and Benefits