Tired of spending hours in the kitchen? Read our best blenders review to discover how quickly you can prepare endless culinary possibilities with a blender. It can whip up delicious smoothies, creamy soups, and nutritious treats in seconds! Embrace a healthier lifestyle with this ultimate kitchen companion.
With the magic of a blender, you can create sauces, salad dressings, and refreshing smoothies. You can explore new flavors and textures and elevate your cooking game.
---
Product Table (in a hurry)
This post contains affiliate links. If you click on and purchase through one of those links, you won't pay a penny more, but we'll get a small commission, which helps keep our website operating. Thanks! As an Amazon Associate, I earn from qualifying purchases.
---
Why You Should Get a Blender.
Blenders are a multi functional kitchen appliance. Here are 7 things a blender can do:
1-Smoothies and Shakes:
Blenders are perfect for making delicious and nutritious smoothies and shakes. You can use a variety of fruits, vegetables, yogurt, and other ingredients. They can produce thick smoothie blends for you to top with various fruits, nuts, and seeds. You can blend frozen fruits to make refreshing sorbets and other frozen desserts.
2-Baby Food:
For parents, blenders are handy for preparing homemade baby food, providing a healthier alternative to store-bought options.
3-Sauces and Dressings:
Blenders can effortlessly mix and emulsify various ingredients to create flavorful sauces, dressings, and marinades. They can emulsify and help stabilize soups and sauces, dressings, and mayonnaise.
4-Dips and Salsas:
Create delicious dips, salsas, and hummus for snacking or as appetizers for gatherings.
5-Crushing Ice:
Blenders with enough power can crush ice, allowing you to make refreshing frozen drinks and cocktails.
6-Time-Saving:
Blenders expedite food preparation, especially for recipes that require blending or mixing. They can quickly, eliminating the need for manual whisking.
7-Healthier Lifestyle:
By using a blender, you can incorporate more fruits and vegetables into your diet, promoting a healthier lifestyle. They open up a world of creative recipes, allowing you to experiment with different flavors and textures.
The benefit of a blender largely depends on its power and features, so consider your needs and preferences when choosing one for your kitchen.
---
What to Look for When Buying a Blender.
When buying a blender, there are several factors to consider before purchasing a blender. You want to ensure that the one you choose will best suit your needs. Here are several essential things to look for:
1-Consider the Material of the Blender Jar.
Common materials for blender jars are glass and plastic. Glass jars are generally more durable and do not absorb odors, but they can be heavier and more prone to breakage. Plastic jars are lighter but may retain odors over time.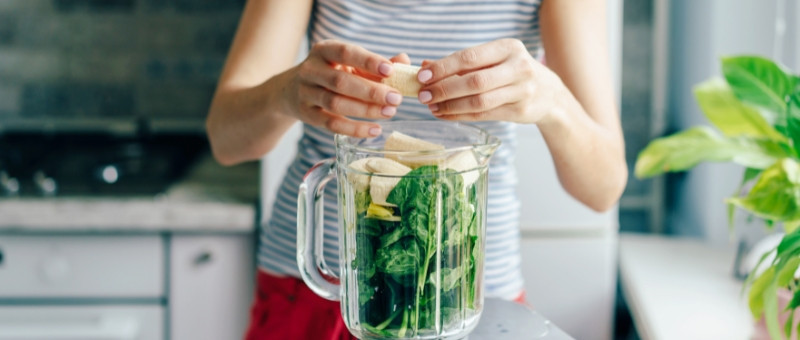 2-Consider the Size of the Jar for Your Needs.
Additionally, ensure the blender jar has an appropriate size for your needs. If you plan on making large batches of smoothies or soups, a bigger jar (usually around 64 ounces) would be ideal. For personal use or smaller servings, a smaller jar (around 32 ounces) should suffice.
3-Power and Performance.
The blender's motor power and performance are crucial factors to consider. Blenders with higher wattage and powerful motors can handle tough ingredients like ice, frozen fruits, and hard vegetables more efficiently.
Look for blenders with at least 600 to 1000 watts of power for versatile blending capabilities. Higher-powered blenders are also more likely to provide smoother textures in your blends.
4-Benefits of a Pulse Function.
The pulse function allows you to have more control over the blending process. Instead of continuous blending, the pulse function operates in short bursts when you press the pulse button. This helps you achieve the desired texture and consistency without over-blending or pureeing the ingredients too much. It is particularly beneficial when chopping nuts, onions, or garlic – to achieve the desired level of coarseness.
5-Emulsifying Dressings and Sauces.
When you need to combine ingredients that naturally don't mix, such as when making salad dressings or sauces, the pulse function helps gradually blend the ingredients together, resulting in a smooth and creamy texture.
6-Preventing the Blender from Stalling on Ice or Frozen Fruit.
When crushing ice or blending frozen fruits, the pulse function allows you to break down the ingredients in intervals, ensuring even blending.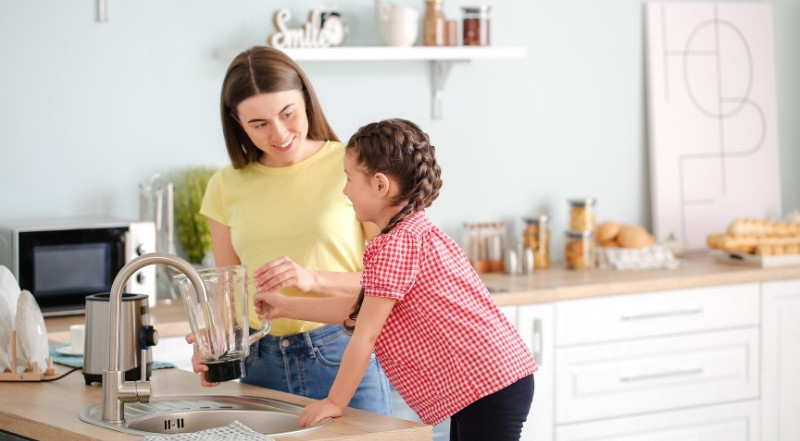 7-Is it Easy to Clean?
A blender with easy-to-clean features can save you valuable time in the kitchen. It ensures that no residue or odors from previous blends are left behind, maintaining the freshness and taste of your current recipe.
Regular and easy cleaning helps prolong the lifespan of your blender.
Blenders that are easy to clean are generally more user-friendly and encourage you to use them more often.
Some blenders come with dishwasher-safe parts, making the cleaning process even more convenient. You can simply place the detachable components in the dishwasher for a thorough and effortless cleaning experience.
8-Adequate Speed Settings.
When purchasing a blender, look for blenders with multiple speed settings. Proper speed settings help you achieve the perfect blend consistency, according to ingredients' texture and hardness.
Lower speeds work well for delicate items like berries, while higher speeds tackle tougher tasks like ice or nuts.
Some blenders even offer a pulse function for controlled bursts of power. Adjustable speed settings ensure versatility in creating smoothies, sauces, soups, and more. So, whether you desire a silky puree or a chunky salsa, a blender with a variety of speed options will be your reliable kitchen companion.
9-Additional Factors.
Of course, there are other factors to consider, such as your preferences and intended use.
---
Do Your Own Research
Researching product reviews and customer feedback can also be helpful in finding a blender that meets your expectations.
Do your own research to find one that provides good value for your needs and investment.
---
5 Best Blenders Review for Your Kitchen
Here are 5 of the Best Blenders for Review.
---
1- Vitamix E310 Professional Grade Explorian Blender
This best seller is a high-quality piece of equipment for serious cooks. It is built to last for many, many years. It can easily grind almonds into smooth, creamy almond milk.
It has a timer built in, and in about 6 minutes you can have homemade soup right from the blender.
It has a 48 oz container, with variable speeds and variable pulse allowing you total creativity with your blender, from chuncky salsa to thick or creamy soups.
The stainless-steel blades are meant to last. A cool-running motor gives you no worries of it over-heating. It is so simple to use and easy to clean!
Warranty:
Specs:
Dimensions – 8″D x 11″W x 17″H
Container size – 48 Fluid Ounces
Speeds – 10-speeds
Pulse – Yes
Pros:
Hardened stainless-steel blades.
Can clean itself in 30-60 seconds.
5-year full warranty.
Cons:
Loud & Heavy
Container seems small.
Electrical plugs are meant to use in the USA. Outlets and voltage differs internationally and may require an adapter or converter.
What Customers Say:
It's an amazing blender.
Super-solid and well-built.
Final product is smooth, not gritty, even when blending nuts.
Pitcher base is larger than the pitcher. However, it works fine.
---
2- Ninja BL660 Professional Compact Blender – 1100 watts
Makes creamy, frozen drinks, smoothies, sauces, and more. You will find so many useful things to do with this professional model blender that it will seldom sit idle on your kitchen counter!
The XL 72 oz. container holds a max of 64 oz. liquid. It makes plenty for the entire family and is great for entertaining guests!
Effortlessly you can chop, mince, or grind various ingredients, making meal prep a breeze.
You will love the option of making smoothies in the 16 oz. single-serve cups. Just use the single-serve button! Attach the spout-lid and take it with you on the go!
Warranty:
Specs:
Dimensions – 6″D x 8″W x 17″H
Container size – 72 Fluid Ounces – Two 16 oz. Go-To Cups with Lids
Speeds – 3 Manual Speeds
Pulse – Yes
Pros:
28-Recipe Guide
Two 16 oz. single serve cups with spout lid.
Blend directly in single-serve cups with single-serve button.
24" power cord.
Cons:
Loud
Take care – blades are quite sharp.
What Customers Say:
So easy to use!
Works like a champ!
It has been worth every penny!
Feels cheaper than product bought 5 years ago.
---
3- Oster 6812-001 Core 16-Speed Blender
You will enjoy using this Oster 16-speed blender with 4-point stainless steel blade. Good to chop and puree. Choose between grate, blend, shred, grind, mash, liquefy, and more.
The BPA-free glass jar is dishwasher safe for easy clean-up. Electrical plugs are designed for North American use, as international outlets and voltage may be different.
The DURALAST all-metal drive gives lasting quality and performance. It has been tested to blend up to 10 thousand smoothies and has a 10-yr limited warranty.
Warranty:
3-yr. satisfaction Guarantee
10-year Limited DURALAST Warranty
Specs:
Dimensions – 9″D x 8″W x 14.25″H
Container size – 5-cup glass container
Speeds – 16
Pulse – Yes
Pros:
5- cup Glass Container
10-yr Limited Warranty
Cons:
The base is made of chrome-plated plastic.
What Customers Say:
Good value for the money.
Good customer service.
Use it daily and love it!
Quality not as good as previous Oster blenders.
---
4- Hamilton Beach 40 oz. Wave Crusher 54221 Blender
The Hamilton Beach Brand was established over 100 years ago. Their products are found in over 100 countries world-wide.
The patented Waveaction blender system is designed to continually force the mixture down into the blades for consistently smooth and creamy results.
The easy-pour spout is designed to eliminate drips. The lid, blades, and glass jar are dishwasher-safe for easy cleaning.
You will appreciate the heat-resistant glass jar to withstand extreme temperature changes.
It is backed by a 3-year warranty and the durable motor has been tested to blend 8 thousand frozen drinks.
Warranty:
Specs:
Dimensions – 6.89" x 9.45" x 14.96"
Container size – 40 oz. glass jar
Speeds – 14 blending functions
Patented WaveAction – Ice Saber blades
700 Watts
Pros:
Patented WaveAction system for smooth results.
Durable motor tested to 8 thousand frozen drinks.
Dishwasher-safe jar, lid, and blades.
Cons:
What Customers Say:
Add liquid first – then the ice cubes for perfect smoothies.
Perfect size.
Happy with glass container.
Great price!
For smoothies it is fine.
Lid is hard to remove.
Be sure the bottom part is screwed on tight, so it doesn't leak.
---
5- BLACK+DECKER Digital BL1300DG-T
The QuietCrush Technology is advertised as "Less noise. More power!" The 900W motor quickly blends ice and frozen fruits. It is ideal to create protein shakes, soups, purees, breadcrumbs, and more. An 18 oz. personal jar made of strong Tritan® plastic travel cup is great for on-the-go.
You will enjoy the convenience of the dishwasher safe easy cleanup of the removable parts. The front sealed control panel wipes clean with a cloth.
The specially designed blade draws the contents downward to create a constant flow and fast, blending performance.
Warranty:
Specs:
Dimensions – 9.6″D x 11.5″W x 14.5″H
Container size – 48 fluid oz.
Speeds – 3 speeds
Pulse – Yes
900 Watts
Pros:
Quiet Technology
Dishwasher safe removable parts.
4-Tip QuadPro Blade Technology
6-Cup Easy Pour Glass Jar
Cons:
Glass container is heavy.
Three speed settings.
What Customers Say:
It blends and crushes well.
It gets the job done quickly.
Not as many settings, but it gets the job done!
Not as quiet as I thought it would be.
---
---
FAQ's
What is the difference between a blender and a juicer?
A blender does not separate parts of the produce. It incorporates the fiber and the juice. The Juicer removes the fiber from the fruit and leaves only the juice remaining.
How does blending and juicing compare?
Fiber remains in a smoothie. It makes the produce easier to digest, but it does not come with the potential spikes in blood sugar that is common when juicing.
Which is better to use, a blender or a juicer?
Both appliances are great for a variety of reasons. Both allow you to add more fruits and vegetables into your diet. Blenders let you experiment with more ingredients and recipes, like chopping nuts, making sauces, dips, and salsas, and much more beyond only producing juice.
---
In Conclusion
Getting a blender can be a great addition to your kitchen. They are versatile appliances and can perform a wide range of tasks, making them indispensable for both culinary enthusiasts and those who simply enjoy the convenience of preparing food quickly and easily.
Choose which of the 5 blenders reviewed you want in your kitchen!
---
Disclaimer: If you have any concerns or questions about your health, you should always consult with a physician or other healthcare professional. No content on this site should be substituted for direct medical advice from your doctor or another qualified healthcare practitioner. The information contained here is for informational purposes only. It is from my research and personal experience.
---
Related Posts
Centrifugal vs. Cold Press Juicers: What is the Difference?
7 Top Cold Press Juicers to Buy this Year
What's the Benefit of Juicing – 11 Health Benefits of Cold-Pressed Juice