We love to come home to a neat and tidy home. But what about those clingy odors of lingering fried foods from last night's supper, or other scents here and there around the house. You can easily create a home full of fresh, sweet air, and walk into a house full of pleasurable scents. Isn't that what you would call a cozy atmosphere? Here are 9 tips to use essential oils at home and round about.
---
---
There is more than one way to add fragrance to your rooms. But what is a better scent than essential oils wafting from your atomizer?
You can add truly wonderful-smelling essential oils to brighten every corner of your home. Just a few drops of essential oils will change the entire ambiance.
It is the impact that those odors have on our emotions that are most impactful. They can lift your mood and help you focus on the task at hand. They can also bring a calm into your being.
Make Your Own Blends
By blending your own favorite essential oils, you can have a unique custom blend.
Lemon essential oil is a completely natural ingredient. It is extracted from the peel of fresh lemons and has a clean, refreshing scent.
It is also known for its antiviral and antibacterial properties. Lemon oil will bring a cheerful aroma to any area of your home. A 2006 study concluded that lemon essential oil was more effective at relieving stress than other essential oil, even lavender and rose.
Lemon blends well with cedarwood, eucalyptus, peppermint, and tea tree essential oils.
You can combine eucalyptus essential oil with a bit of lavender oil to create a spa-like effect in your home.
9 Tips to Use Essential Oils at Home and Round About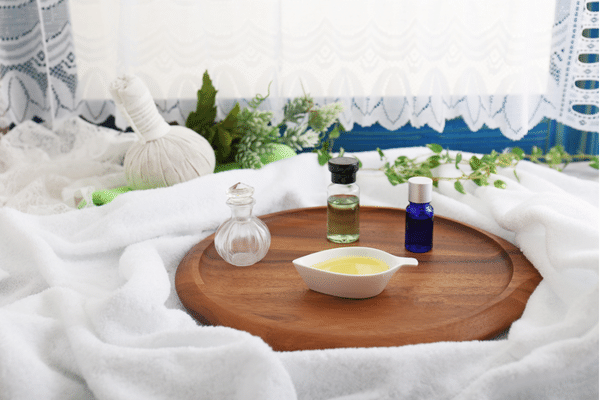 #1 Begin the Day with Essential Oils
If you want to get off to an energetic start, why not try some refreshing citrus with some invigorating spearmint.
Eucalyptus stimulates the brain. Lemongrass invigorates your senses. Wild orange lifts your mood, and frankincense balances your nervous system.
A Perfect Wakeup Blend
A few drops of bergamot, geranium, and lavender work wonders to get you in good spirits if you woke up on the wrong side of the bed.
You could try a few drops of frankincense, peppermint, orange, and lime and be amazed at the instant mood boost you experience.
#2 Focus
Do you work from home, and want to focus? A 2018 study on school children confirmed that rosemary can help focus and memory, potentially boosting memorization in school. Peppermint prevents fatigue, according to a small 2013 study, and lemon enhances a positive attitude.
#3 Immune System
To keep your immune system going strong, try several drops of orange, cinnamon, eucalyptus, clove, and rosemary. Put that in your diffuser with some water and enjoy the aroma for hours.
#4 Sleep
To have a healthy immune system you need to get your sleep. You could use several drops of lavender, chamomile, and juniper berry, all known to help you relax and wake refreshed in the morning.
Sage and Chamomile are helpful in easing anxiety, and boost relaxation at the end of the day.
#5 Upset Stomach, Bloating, Indigestion
Ginger is known to be good for digestive issues. You can try these essential oils in your diffuser.
Chamomile, lemongrass, basil, ginger, and peppermint.
Cardamom, ginger, lime.
#6 Do You Have a Headache?
Peppermint is thought to be a big help in reliving headaches. Here are a few blends you could try:
Myrrh, peppermint, eucalyptus.
Lavender, peppermint, eucalyptus, and rosemary.
Marjoram, peppermint, thyme, rosemary, and lavender.
#7 Do You Have a Cough or Cold?
Essential oils in a diffuser are a fantastic way to humidify your room to give you restful sleep. You may find this is just what you need to help you breathe better as you relieve coughing and a stuffy nose. Here are some blends you can try.
Lemon, lavender, and orange.
A blend of eucalyptus and peppermint.
Tea tree, lavender, and Japanese mint.
#8 Do You Still Have to Deal with the Last Bugs of Summer
Here are a few other tips to use essential oils at home. These are some of the best blends of essential oils to repel those annoying flying insects:
Spearmint, peppermint, citronella, and lemongrass.
Lemongrass, thyme, eucalyptus, and basil.
Tea tree, thyme, lemongrass, eucalyptus, and rosemary.
#9 Household Cleaning
White vinegar, baking soda, and Castile soap are the 3 basic ingredients for household cleaners to which you can add the fresh scent of essential oils of your choice.
How to Use Essential Oils
Diffuser
If you are using essential oils in a diffuser, you need to follow the manufacturer's instructions. Usually, place several drops of each essential oil of your blend, in the diffuser with distilled water to the "fill" line. The use of distilled water will lessen the buildup of mineral deposits on the inside.
Bath
The diluted essential oil can be added to a warm bath water. Then soak in the tub up to 20 minutes or until the water cools.
Massage
You can massage diluted essential oils onto your skin. They should be diluted in a carrier oil such as Apricot Oil or Argan Oil or Avocado oil. They then can be applied to the targeted area of pain or other symptoms.
Test for a possible allergic reaction by putting a drop or two on your wrist or elbow for 24 hours to see if a rash or redness develops before using on your skin.
Inhaled
Essential oil blends can be placed on a cotton ball and inhaled through the nose or put under the pillow (lavender) for restful sleep.
Compress
A diluted essential oil can be used as cold or warm compress by wetting a cloth, adding the diluted oil, and applying it to the affected area.
Do Not Ingest
How to Purchase the Best Essential Oils
If you want to purchase the best essential oil, you need to do your research. If you research that philosophy of the brand and the reviews of the product, it will show you if they align with your philosophy and give you a good idea of their quality and effectiveness. You should look for 100% pure therapeutic- grade essential oils that are extremely high quality. Some are gluten-free, cruelty-free, and vegan-friendly.
Things to Consider Before Using Essential Oils
Follow package instructions. Be extremely cautious if using a heated diffuser, especially around kids and pets.
Essential oils are the most concentrated part of the plant, so you will want to avoid any essential oils that you are allergic to.
It is suggested that you do not use essential oils on children under 6 years of age. (Listen to the YouTube at the top of the page.)
Pregnancy
Some essential oils are useful during pregnancy, and some should be avoided.
Here is a list of useful essential oils to use during pregnancy.
Combat Morning Sickness and Nausea
Promote Calm, Relaxation, and a Good Night's Sleep
Frankincense
Chamomile – German or Roman
Lavender
Neroli
Petitgrain
Rose or Rosewood
Uplift Your Mood
Geranium
Lemon
Patchouli
Sandalwood
Wild Orange
Some essential oils should be avoided during pregnancy.
9 Tips to Use Essential Oils at Home and Round About
Here is a list of essential oils to avoid during pregnancy.
Do Not Use During Pregnancy:
Aniseed
Basil
Birch
Camphor
Clary Sage
Hyssop
Mogwort
Oak Moss
Parley Seed or Leaf
Pennyroyal
Peppermint
Rosemary
Rue
Sage
Tansy
Tarragon
Thuja
Thyme
Wintergreen
Wormwood
Before using any essential oils, discuss their use with your obstetrician or gynecologist first!
Some Essential Oils are Toxic to Your Pets!
Some essential oils can affect your pet's health. They are toxic whether they are applied to the skin, used in diffusers, or licked up, in case they have been spilled.
Dogs and cats are much more sensitive to scents than their owners. You may hardly be aware of the scent, but your animal friends may be overwhelmed and harmed by them.
Tiny oil droplets diffused into the air as water vapor are known to negatively effect their respiratory system. Natural does not always mean safe.
The Following Essential Oils Are Poisonous to Cats.
Cinnamon oil
Citrus oil
Clove oil
Eucalyptus oil
Oil of Sweet Birch
Pennyroyal oil
Peppermint oil
Pine oils
Tea Tree oil
Wintergreen
Ylang Ylang
A Dog's Sense of Smell Is Much Keener Than Humans!!
You may think that placing lavender essential oil on your pet's bed may calm them. It may just be placing more stress on their body.
Talk to your veterinarian during tick season to see what their recommendations are. They will let you know which essential oils are safe to use in your home.
Keep all essential oils out of the reach of your curious dog.
Toxic essential oils for dogs are:
Pennyroyal oil
Pine oil
Tea tree oil
Wintergreen oil
Cinnamon oil
Citrus oil
Peppermint oil
Sweet Birch oil
Ylang Ylang
Contact your veterinarian for further information about essential oils and your pets.
In Conclusion
Essential oils can be blended in many ways and you may obtain many different results, from immune support to repelling insects. They can be invigorating, and help you focus, as well as help you sleep. Essential oils can be beneficial.
However, there are sometimes their use should be avoided. Check with your ob-gyn, and veterinarian to see when those times are.
What ever your purpose for purchasing essential oils, you will get best results from using quality products. Do your research to find a supplier whose quality and philosophies align with yours.
Please Leave a Comment
I would love to hear from you and your experience with essential oils! Do you have more tips to use essential oils at home and round about?
---
Disclaimer: If you have any concerns or questions about your health, you should always consult with a physician or other healthcare professional. No content on this site should be substituted for direct medical advice from your doctor or other qualified healthcare practitioner. The information contained here is for informational purposes only. It is from my research and personal experience.