So, you want to switch up your exercise routine to keep it fresh and interesting. I have a suggestion for you! You could try a BOSU ball! You can do a great many exercises to build core strength and get lower body exercise. It is a fantastic way to get cardio – and with a strong core, comes reduced back pain! It is great for functional fitness. Read more of our BOSU Ball exercise equipment review. We review 3 BOSU balls and one less expensive alternative.
The History of the BOSU Ball
The BOSU ball is a training devise that David Weck invented in 1999 to help cure his back pain. He took a hard fall from a stability ball, then decided to cut the ball in half for safety, and still get benefits from a good workout.
So yes, the BOSU ball looks like a stability ball cut in half, with a rigid platform on the bottom. The acronym, BOSU initially stood for "BOth Sides Up" since the athletic drills and cardio activities can be done on either side. This balance trainer provides an unstable surface to perform exercises to strengthen a variety of muscles.
Its Use in Physiotherapy
Initially, the BOSU ball was used in the physiotherapy practice, for patients that had stability issues in the lower body. It helps strengthen the lower body, ankles, feet, and core muscles.
Used in the physiotherapy world, unstable surface training (UST) was successful. Working on an unstable surface, such as the BOSU ball, sped up recovery time. Its success soon spread to many well-intentioned gyms and personal trainers.
From physiotherapy, this trendy idea spread, and as a result, many exercises were created that could be done on the dome.
Product Table (in a hurry)
| | | |
| --- | --- | --- |
| # | BOSU Ball | Description |
| 1 | BOSU Balance trainer "the Original" | Weight limit 300lb – Item weight 17lb – Diameter 26" – Fully inflated height 10" – Multiple colors – Made in USA |
| 2 | | Weight limit 350lb – Item Weight 19lb – Diameter 26" – Fully inflated height 10" – Blue – Made in USA |
| 3 | | Weight limit 350lb – Item weight 19lb – Diameter 26" – Fully inflated height 10" – Blue – Made in USA |
| 4 | | Item weight 9.2lb – Diameter 23″ – Fully inflated height 9″ – Removable Resistance Bands – Comes with a Foot Pump |
---
This post contains affiliate links. If you click on and purchase through one of those links, you won't pay a penny more, but we'll get a small commission, which helps keep our website operating. Thanks! As an Amazon Associate, I earn from qualifying purchases.
---
Get Embed Code
Why You Should Get a BOSU Ball!
A BOSU Ball is a great way to increase your stability. These exercises build core strength as well as flexibility and strength in your lower body. Exercising from an unstable surface will strengthen your rectus abdominis – or abs – to a greater degree than exercising from a stable surface.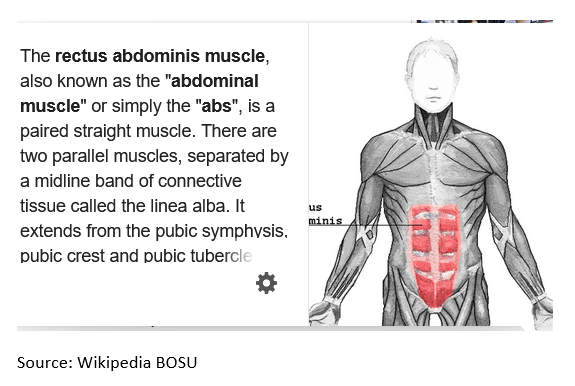 Studies show that you can achieve greater core muscle activity doing crunches of sit-ups on a BOSU ball compared to a flat, stable surface.
BOSU Balls and Lindsey Vonn – Gold Medal Skier
Olympic gold medal-winning skier Lindsey Vonn uses two BOSU Balls to practice single-leg, side-to-side steps to perfect her balance.
The BOSU balance trainer originally was used as an acronym for "BOth Sides Up". It refers to the fact that you can train on both sides – the dome, and the flat platform. More advanced standing moves are often done with the flat side up.
The BOSU ball can be used while doing push ups, mountain climbers, and burpees. You can do balance exercises to strengthen the muscles in the feet.
---
---
What to Look for When Buying a BOSU Ball
There are several things that separate the original Balance Trainer from similar ones.
The patented design of the original BOSU ball has a platform that outlasts the competition by 10 times as far as the number of steps that can be taken on it before it fails. Every original BOSU Ball in the last 20 years has been made by the same company in Ashland, Ohio. They use the strictest guidelines in creating the safest plastics possible, compared to those commonly found in inexpensive plastics.
You will see the BOSU Balance Trainers official brand decal with its insignia on the top of the dome.
Flip the BOSU over and the base where the brand name is displayed is not flat! It is concave.
---
---
BOSU Ball Exercise Equipment Review
---
1. BOSU Balance Trainer "the Original"
The BOSU Balance Trainer provides a fun and fast workout. It is designed to give cardio, flexibility, and endurance training. The BOSU is easy to use, with endless exercise possibilities.
This piece of exercise equipment is both fun and challenging. You can get an effective training by downloading workouts developed by industry professionals. You can improve your fitness and health. Included with the BOSU ball is included a hand pump and a downloadable Owner's manual.
To ensure the longevity of your BOSU, do not over-inflate.
Warranty:
Specs:
Weight limit: 300lb
Item weight: 17lb
Diameter: 26"
Height when fully inflated: 10"
Multiple Colors
Made in USA
---
2. BOSU Pro Balance Trainer
The BOSU Pro Balance Trainer is designed for commercial and home use. Physical therapists, rehabilitation facilities, personal trainers, and fitness clubs all use the BOSU Pro Balance Trainer with great success. You will get many years of use from this heavy-duty, burst-resistant exercise equipment. It has a non-slip, non-marking molded base.
You will enjoy the convenient downloadable 6-exercise DVD, downloadable wall chart, and downloadable training manual.
Do not over inflate to ensure a long lifespan.
Warranty:
Specs:
Weight limit: 350lb
Item weight: 19lb
Diameter: 26"
Height when fully inflated: 10"
Blue
Made in USA
---
3. BOSU Pro NexGen
The BOSU Pro NexGen has enhanced grip capabilities for greater movement of the body. The hand pump that is included makes inflation quick and easy.
You will enjoy the convenience of downloading the free DVD and the free downloadable wall chart with 12 new exercises. They will be right at your fingertips on your phone, tablet, or computer. Your purchase includes a digital owners manual, and if you have any issues, you can readily contact the responsive customer service.
Warranty:
Specs:
Weight limit: 350lb
Item weight: 19lb
Diameter: 26"
Height when fully inflated: 10"
Blue
Made in USA
---
What Customers Say about the BOSU Balls:
Manufacturer stands behind their product. Emailed them right away with receipt invoice and serial number, and they shipped a replacement.
Comes with digital copies not hard copies. Free downloadable DVD download and wall chart.
Quite convenient with digital copies on phone, computer, or tablet.
All-in-all I am very happy with this purchase.
Be cautious. Doing exercises carelessly or incorrectly may result in injury.
The BOSU advertises that they "Last 10x longer than the competition".
---
4. Nice C Balance Ball Balance Trainer
This is a lower price alternative to the BOSU brand balls. It also focuses on improving your flexibility and balance and it strengthens your core and lower body muscles as well. You can do high-intensity cardio on this small device that can slide under your bed when you are finished.
There are three types of exercises you can get from the same piece of equipment. You can Exercise with The Flat Side Up, With the Dome Up, and Use the Resistance Bands that you can attach to the balance trainer as well.
The anti-slip design allows you to safely stand, kneel, and jump, worry-free.
It comes with a foot pump for easy inflation, and is made of environmentally-friendly, non-toxic and chemical-free PVC material. It is waterproof, stain-resistant, and easy to clean.
Warranty:
Return policy: Eligible for Return, Refund, or Replacement within 30 days of receipt in its original condition.
Specs:
Weight limit: N/A (adult)
Item weight: 9.2lb
Diameter: 23"
Height when fully inflated: 9"
Removable resistance bands
Comes with a foot pump
Grey
Pros:
Lower price alternative than the BOSU Ball
Cons:
Ball seems sturdy – foot pump not as well constructed.
What Customers Say about the Nice C Balance Ball Balance Trainer
This balance ball seems to be made of high-quality material, it feels sturdy and durable.
Use for physical therapy exercises and squats.
Targets core muscles and improves balance.
Physical Therapist used it to strengthen daughter's injured ankle. After several weeks of workouts daughter is playing soccer pain-free.
Responsive customer service.
Good for a beginner home workout.
Confusing how to inflate. Reached out to the seller who responded satisfactorily. Now I use it all the time and it is still going strong!
---
Wrapping It Up
The BOSU brand has been used by physical therapist, fitness clubs, and professional sports teams. They know and trust the quality materials and superior workmanship of the brand.
The US-based customer support team is happy to resolve any issues you may discover. Look for the BOSU logo on every BOSU Balance Trainer.
After reading the BOSU Ball Exercise Equipment Review you learned there is a good alternative to the BOSU Ball. Some customers found the less-expensive Nice C Balance Ball Balance Trainer a satisfactory alternative to the BOSU. Some like the resistance bands on the Nice C Balance Ball.
The BOSU ball has a warranty and a good reputation for durability.
To keep your balance ball in good working condition for years to come be careful not to over-inflate your BOSU.
---
---
Disclaimer: If you have any concerns or questions about your health, you should always consult with a physician or other healthcare professional. No content on this site should be substituted for direct medical advice from your doctor or other qualified healthcare practitioner. The information contained here is for informational purposes only. It is from my research and personal experience.
---
Related Articles
The BOSU Ball and Functional Fitness
How to Improve Your Grip Strength: Does Grip Strength Matter?
5 Best Strength Training Exercises for Seniors
Top 15 Benefits of Strength Training