How to get fit at home without equipment. Have you ever been stuck at home with no equipment and felt overwhelmed about your health and fitness? Did you ever want to create a home gym?
Have you been discouraged because you do not have a workout plan or the motivation to stick with one? You are not the only one! Try planning your workouts into your daily activities.
How can you get fit at home without equipment? You could use High Intensity Interval Training, Aerobic Exercise, Strength Training, Circuit Training, Stretching, Endurance Training, and Balance Training.
---
How to get fit at home without equipment – Great for everyone!
---
Choose an Activity that You Enjoy
You are more likely to have success if you build a workout plan and lifestyle around your likes rather than what you think you should like. You won't keep up your exercise routine for long if it is something that you hate doing.
Find something that puts a smile on your face. Find motivation in your exercise program.
Decide on a Goal
You need to decide on what your goals are. How much time do you have to invest in your workout? You do not need equipment. Body weight exercise is a good way to get fit at home without equipment.
Find someone who can help you establish your goals. Do you have someone who will help you be accountable to yourself and your workout? A personal trainer would be a good option.
Just having someone to monitor your progress and cheer you on will help you feel accountable. You may have a bad day, then they are there to help pick you up.
Follow a Plan
If you have a plan to follow, it will take the decision-making out of each day. That alone will help you get fit at home without equipment. When you have an exercise plan and the going gets tough, it is easier to get up and start over again.
If you are new to working out. It is best to start slowly and then go on to the more challenging things. You can use your own body weight. Squats, push-ups, lunges, the plank are all great ways to begin.
Be realistic. Make small changes to your daily routine. How to get fit at home becomes a habit. I like to get up early and start my exercise before the demands of the day set in.
Keep Your Heart Rate Up
The goal is to keep your heart rate up. Go from one exercise to another without stopping, if you are physically able to do this. Circuit training is one way to do this. I will talk more about circuit training later in this article.
Remember to discuss this with your physician or healthcare provider before starting any new exercise regime.
What is the best way to get in shape?
Is it jogging, the lunges or doing the plank? What about Interval Training?
HIIT (High Intensity Interval Training)
With High Intensity Interval Training, you use a burst of energy then slow down your pace. Then you pick up the pace, then slow it down again.
Sprinting for 30 seconds followed by 90 seconds of jogging, then repeating the cycle for about 30 minutes would be a form of High Intensity Interval Training.
Aerobic Exercise
Aerobic exercise is pretty much anything that you can keep doing for a long period of time and have an elevated heart rate. Aerobics, such as the aerobic stepper, Zumba, running on a treadmill or using an elliptical machine are good examples.
Aerobic exercise is good for the heart. When you raise your heart rate, you are making your heart muscle stronger.
You don't need a treadmill or exercise bike, though that is a great. Many athletes jump rope.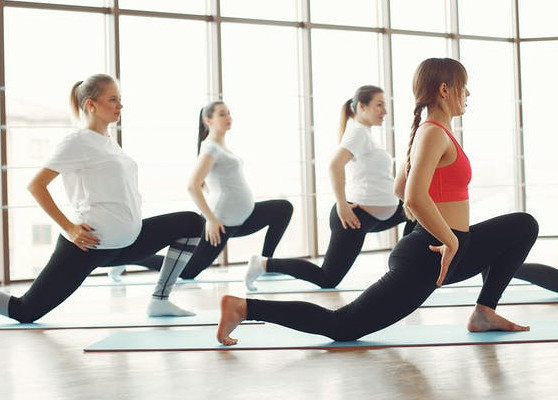 Strength Training
Strength training is lifting weights. You can use body weights, such as push-ups and lunges. These exercises use your major muscle groups.
How to get fit at home without equipment. A few small dumbbells may come in handy. Even a set of resistance bands are a good place to start
Begin with squats and arm circles. Also, try standing from a seated position without the use of your arms to push you up.
Health Benefits
Research shows that people who did resistance training only one hour a week, had a lower risk of heart attack, stroke, and death from heart disease, compared to those who did not do strength training at all.
Stronger muscles help your body retrieve more oxygen and nutrients from your blood more efficiently. That makes the job easier on your heart.
Popular Body-Weight Exercises
These are some popular body-weight exercises to begin with.
Squats
Lunges
Push-ups
The Plank
Jumping Jacks
Circuit Training
Go through these 5 exercises as a circuit. Do each of the exercise with their specified amount of repetitions. Then you start all over again and go through the same circuit sequence, without stopping, and you don't even need any gym equipment!
It is good to use every major muscle group as you sequence through your circuit of exercises. Go though each circuit three times.
Weight Training Creates Strong Muscles and Bones
Strength training is necessary to make strong muscle and to avoid osteoporosis or bone loss.
Stretching
There are many benefits to stretching. It increases your flexibility. It makes it easier for you to tie your shoes!
Stretching:
Makes you more flexible
Increases your range of motion
Improves your posture
Increases your blood flow to your muscles
Helps to prevent and heal back pain
Is a great stress reliever
Stretching on a regular basis can reduce pain and encourage proper body alignment. It can help heal an existing back injury and prevent future back pain by strengthening your back muscles.
Stress
When you experience stress, it is quite likely that your muscles are tense. By stretching or massaging those muscles, you can cause them to relax.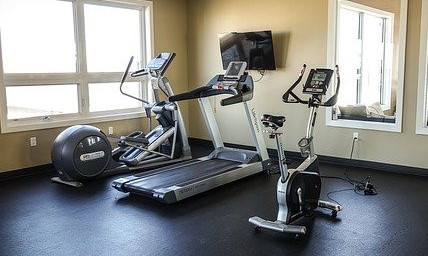 Endurance Exercise
To increase your endurance, you can plan to do 1 – 3 low-intensity cardio workouts per week.
Try a brisk walk. If you have a stationary bike, treadmill, rowing machine, or elliptical trainer, that is great. Work at a steady pace for 40 to 90 minutes at a time. The plank is an excellent endurance exercise.
For variety, you could also try a few minutes jumping rope. Jumping rope to the count of 100 would use up quite a few calories!
These types of workouts boost your heart health and make everyday tasks like walking up the stairs seem effortless.
If you change your routine around it will add variety to your exercise plan, and help you stay motivated. A regular walking routine helps reduce food cravings.
Balance Exercise
Balancing exercises work your core muscles, lower back, and legs. You need a strong lower-body to keep good balance.
Balance Exercises help you maintain your confidence and keep you from falling. It makes daily activities such as carrying heavy items easier. You need good balance in order to change directions quickly, which many athletes know.
Below are a few exercises you can do to improve your balance.
Shift your weight from one leg to the other
Stand on one foot for as long as possible without holding on to anything.
Stand up from a seated position without using your hands.
Walk heel to toe
Walk sideways. (Step left with one foot, then left with the other foot joining the first foot.)
Tai chi improves balance and stability
Adjust Your Diet
If you really want to lose those love handles or that muffin top, the best thing you can do is adjust that diet. Begin with a healthy diet to get fit at home!
We have all heard that exercise is responsible for 20% of our weight, while diet is responsible for 80% of our excess weight.
It is great to put in your 150 minutes of exercise a week. Just don't "blow it" by going to the refrigerator too often!
If you want to get a healthier lifestyle you may want to get rid of the extra weight around your middle. Visceral fat is more dangerous fat than fat on your legs or arms. It is the fat around your organs that can cause more damage to your body.
Visceral Fat vs Subcutaneous Fat
Visceral Fat – A protruding belly and large waist are two signs that you have too much visceral fat.
Subcutaneous Fat – If you can pinch it easily from anywhere on your body, that is subcutaneous fat. It lies just below the skin.
People with Visceral Fat have more inflammation and higher incidents of type 2 diabetes, insulin resistance, heart disease and even certain cancers than other people.
A ketogenic diet or a low-carb diet may help in reducing visceral fat.
In Conclusion
Stranded at home or in a hotel room with nothing to do? Here are some ideas to keep you occupied.
High Intensity Interval Training (HIIT) exercise
Aerobic exercise which is good for the heart
Strength training which helps prevent osteoporosis and strengthens the muscles
Circuit Training
Stretching which increases flexibility
Endurance Exercise
Balance Exercise
Please Leave a Comment
What do you do at home to exercise? Do you use equipment? When you don't have access to gym equipment, you can exercise, even with no equipment at all!
! would love to hear from you. How do you get some much-needed exercise when you don't have any equipment to use? What home gym equipment do you already have or would like to get for your workouts?
---
Disclaimer: If you have any concerns or questions about your health, you should always consult with a physician or other healthcare professional. No content on this site should be substituted for direct medical advice from your doctor or another qualified healthcare practitioner. The information contained here is for informational purposes only. It is from my research and personal experience.