Health 0 Meter has been a trusted brand for over 100 years and will help you manage your weight objectives with ease. There are many Health O Meter Bathroom Scales on the market, these scales will compliment your home decor and give you satisfactory service for many years.
Product Table (in a hurry)
---
This post contains affiliate links. If you click on and purchase through one of those links, you won't pay a penny more, but we'll get a small commission, which helps keep our website operating. Thanks! As an Amazon Associate, I earn from qualifying purchases.
---
Health O Meter Bathroom Scales Review
Here are the reviews of Five Health O Meter Bathroom Scales
---
This bathroom scale has an extra-large 15.4" x 11.8" stable platform with a weight capacity of 440 lbs. It is easy-to-read with an extra large 3.7" x 2.2" blue backlit LCD display. It converts weight measurements into either lbs or kgs. The contemporary design has a frosted glass platform with safety anti-skid paddings that rest on the floor.
Health 0 Meter has been a trusted brand for over 100 years and will help you manage your weight objectives with ease.
Warranty:
Specs:
Includes 2 AAA batteries.
15.4" x 11.8" sturdy platform.
Frosted glass platform.
440 lb weight capacity.
Large 3.7" x 2.2" backlit LCD display.
Displays in lbs. or kgs.
What Customers Say:
Easy to read LCD.
Scale weighs the same as the Dr.'s office scale.
Perfect replacement for my old scale.
Stable to stand on.
The scale is wider than normal and easy to clean.
Consistently accurate.
---

---
This smart scale estimates body fat, hydration, BMI, Bone Mass, and Muscle Mass to give you a good picture of your overall health. It has an easy-to-read 2.4" x 2.4" blue backlit LCD. It adjusts to weigh in pounds or kilograms, and stores information of multiple users. It accurately weighs up to 400 lbs. in 0.1 lb increments.
You will appreciate this modern design that will complement your bedroom, bathroom, home, or gym. Four AA batteries are included as well as a 5-yr limited warranty.
Warranty:
Specs:
Dimensions: 12" x 12" x 1.1"H
Accurate to 0.1lb
LCD Display: large 2.4" x 2.4" backlit
Weighs: Body fat%, Muscle mass, Hydration, BMI
4 User weight tracking
4 AA batteries included
What Customers Say:
Gives me all my readings Without the use of an App!
Very accurate
Exactly what I have been looking for.
Health O Meter Scales are tried and true!
You can set up a profile and get all your stats.
Difficult for this senior to select which user.
---
This scale is attractive with a slim profile. It is easy to store, just remember moving scales frequently can affect their accuracy. It measures in 0.1 of a pound, and has a weight capacity of 400 lbs. With the tap of your foot, it will keep track of the weight history of you or your spouse. The 2.9" x 1.3" LCD display is easy-to-read, and the batteries are included. You can convert the scale to measure either lbs. or kgs.
This is a great No Frills bathroom scale. You need no Apps on your phone to keep track of your weight. It is a great attractive glass scale to measure your weight. Health O Meter has been a trusted brand for over 100 years.
Warranty:
Specs:
Dimensions: 11.8" x 11.8"
Display: LCD 2.9" x 1.3"
2 AAA batteries included.
2 User weight tracking
No Apps for body composition
What Customers Say:
Aligns with my doctor's scale.
Love the way this scale performs.
Attractive, efficient, slim profile.
User friendly.
Accurate.
Stores weight history for 2 individuals.
---
This is a basic scale that has no app. It is perfect for people with medical needs who do not want the low electrical pulses that a smart scale has. It is one of Health O Meter's own scales and is known for its accuracy.
You will appreciate the easy-to-read LCD display. To maintain its accuracy, it should always be placed on a level surface when using. It may be tempting to put it away, and bring it out when using, but scales are most accurate when they stay in one place and are not moved about. For best accuracy maintain a battery that has a full charge.
Warranty:
Specs:
Includes 1 AAA batteries.
12 " x 11" x 1" sturdy platform.
Glass platform.
350 lb weight capacity.
Back lit LCD display.
No App.
What Customers Say:
It's No Frills and easy to read.
Accurate scale with bright LED.
I own 2 of these and love them.
I have been using this scale for 5 yrs. with no problems!
The batteries last forever. The best scale I ever owned.
Responsive and Accurate.
Nice, simple scale. Would recommend.
---
This is not a digital scale. It is one of Health O Meter's analog scales. It has an oversized dial that weighs up to 330 lbs.
You will appreciate the easy to clean platform. It must be calibrated for accurate reading. However, it is the simplest analog scale you can purchase, with no batteries or apps. For the price, it is a great analog scale.
Warranty:
Specs:
Analog scale.
Weight Limit: 330 lbs.
Item weight: 1 lb.
Easy to Read 4.75" Dial
Needs no batteries.
Must be calibrated before use.
What Customers Say:
Must calibrate scale for best result.
Hard to find this type of scale.
This is a decent scale for the price.
Accurate within 1-2 lbs.
I am SO glad I went back to the good old basic scale.
Good quality, works like it should!
---
Why You'll Want a Health O Meter Bathroom Scale
Health 0 Meter has been a trusted brand for over 100 years. Established in 1919, the company boasts a rich history of providing reliable and accurate weight measurement solutions.
With over a century of experience, Health O Meter has become synonymous with quality and precision. They are a top choice for anyone seeking a dependable weight management solution.
If you want to monitor body composition of BMI, muscle mass, bone density, and hydration levels, the Health O Meter Smart Digital Scale with Body Composition is a good choice for you.
You'll gain a valuable tool to support your health and encourages positive changes in your fitness and overall well being.
What to Look for When Buying a Health O Meter Scale?
Warranty
Size of platform
Back lit LED monitor or Readable Dial
Smart Scale? Body Composition?
Accuracy
---

---
FAQ's
What are some reasons my scale is not accurate?
Placing your scale on a thick carpet can decrease the accuracy of the scale.
Place the scale on a level surface.
Keep the scale in one place. Moving a scale can affect its accuracy.
If I move the scale, must I then set it back to zero?
Yes,
Is it normal for my weight to vary from one day to the next?
Yes
What is "Tap-On"?
The scale is triggered when you tap on the scale, typically with your toe (foot).
Why is my scale not working?
You may need to check the battery. Consult with the user manual to replace the battery. A low battery and poor battery connections are a typical cause of malfunction and inaccurate readings.
---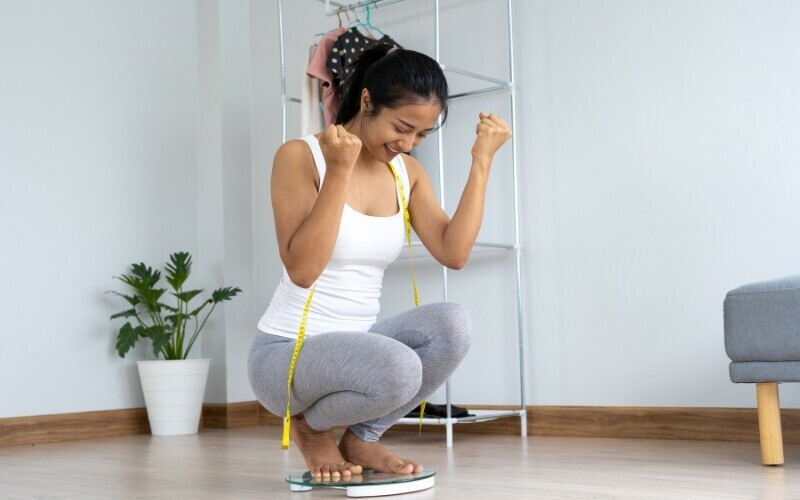 Wrapping It Up
Health O Meter bathroom scales are more than just weight measurement tools; they are a reliable partner in your health and wellness journey. With precision, a user-friendly design, and clear display, they simplify the process of monitoring your weight, making it essential to your daily routine.
The scale's accuracy empowers you to track your progress confidently, fostering a healthier lifestyle. By investing in a Health O Meter bathroom scale, you're not just getting a device – you're gaining a valuable tool that supports your well-being and encourages positive changes in your fitness and health habits.
---
Disclaimer: If you have any concerns or questions about your health, you should always consult with a physician or other healthcare professional. No content on this site should be substituted for direct medical advice from your doctor or other qualified healthcare practitioner. The information contained here is for informational purposes only. It is from my research and personal experience.
---
Related Posts
What Is a Smart Bathroom Scale?
4 Talking Digital Bathroom Scales
What is the Best Smart Scale for 2023? A Review of 5 Scales
21 Weight Management Tips to Lose Belly Fat Forever