Working out is hard. Sometimes you just want to hit that snooze button and roll over to catch another 40 winks. Finding motivation to exercise is often the biggest challenge to get the results you want, so get fit, get motivated, get moving!
It is just fine to skip a workout every once in a while. In fact, once in a while you will need to hit that foam roller just to keep going.
Working out is just that, it is hard work. You must have a reason to go to all that work. If you want to see results, you must put in the effort.
---
Everything is possible as long as you put your mind to it, and you put the work and time into it.
– Michael Phelps.
---
Write Down Your Goals and Review them Often
It is a constant battle to get motivated for the present. It is easy to have a long-term goal to get fit. Try to remind yourself daily of your long-term goal, to keep yourself motivated today. It can take as much as 4 – 8 weeks to see results from your regular efforts.
Set a Goal – a Purpose. Write down your goals and look at that list often.
Make an Appointment with Yourself. Plan in advance and prioritize. Non-negotiable morning workouts are great.
Put Your Alarm Clock out of Reach so you have to get up and get going. Put it on the other side of the room to get yourself out of bed and get mobilized!
Use Visual Motivation. Make a chart. Create a "Vision Board" and place it in a predominate place where you will see it every day. Create a picture of your ideal weight. Imagine how you will look after getting fit and losing that weight. Ask yourself how you will feel. Plan what you would like to do that you don't do now. Form an idea as to how your life will improve.
Make Present Tense Affirmations
Fill your mind and thoughts with a positive mind set. Retrain your belief system about yourself.
I now select healthy diets that make me physically fit.
Every day, I will become healthier than the previous day.
I will now stay active.
I have adopted a positive mindset towards better health.
Have a Workout Buddy
A buddy system is a positive way to provide motivation to keep going. If you are a competitive person, having someone to chart and share your progress is a great way to stay accountable. A private Pinterest board is great for extra motivation. Share it with a friend to stay accountable to your goals. Having a gym buddy and journal are a great motivation in your fitness plan.
Find a workout buddy. You don't even have to work out together. Just keep contact with each other. Text or a private Pinterest Board will keep you in touch. It is a motivation tactic just to feel accountable to someone else.
Follow motivators on Instagram
And finally make exercise a habit
Plan a Fitness Schedule
A busy week is a great way to sabotage your fitness plans. If your life is busy, get a planner. Jot down a spot each day to do something to work toward your goal. That spot in your planner should be just as important as a scheduled meeting. Keep it there as "you time".
Twenty minutes, thirty minutes, an hour is even better. It is best to get up before the rush of the day to have quiet time to get your exercise done.
If you want to join some exercise classes, jot the time in your planner. Once it is in your planner, consider it just as important as a business meeting that you cannot miss. Whether it is 20 minutes or longer, a short, well-structured exercise plan done as a daily habit will produce results.
Put on Your Workout Clothes
Some find they are more motivated to workout when they have their exercise clothes on. Choose something fun to wear. Get excited to get your exercise started. You will put all you've got into your time of exercise.
---
Discipline is choosing between what you want now and what you want most!
---
Make Small Consistent Changes
Discipline is choosing between what you want now and what you want most. By making small changes that you can do consistently, you will form a habit. A good habit is the pathway to success.
Do Something You Enjoy
If you don't enjoy what you are doing, you are least likely to make it become a habit.
Start Slow
Be Kind to Yourself
Reward Yourself
Motivate Yourself with Music
Create a killer play-list. Have a go-to list of music as you work out. Design something with a great beat to keep you going. You don't need the same taste in music as everyone else, but it does help to have a great tempo to work with.
You can Google "runner's playlist" or "exercise playlist" to give you some ideas. Choose the music that you like best to keep you going.
Get Fit, Get Motivated, Get Moving
"As an Amazon Associate I earn from qualifying purchases."
I listen to Sirius radio as I use my rebounder each morning. While the world is still asleep, I can listen to program after program. With no springs on my rebounder, the elastic bands are strong and quiet and will not waken anyone in the morning.
I purchased an inexpensive Stamina rebounder. It is sturdy and serves my purposes well. If you are concerned about losing your balance, it would be best to get a rebounder with a handle on it for added stability.
Some people like to run on the treadmill during their favorite TV show. You can plan you work out while you watch your favorite TV or Netflix shows.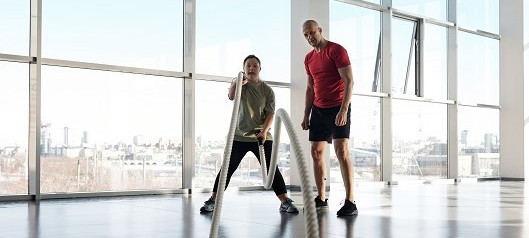 Consider a Personal Trainer
Working with a personal trainer can help you stay on track with an exercise program. It can also help you be accountable to get the work done. A personal trainer can give some additional push when your workouts become too easy. It will be an encouragement for you to do your best.
Embrace Your Competitive Side
Having a social connection will keep you actively engaged. Competing with someone else gives that "extra" reward in itself, to encourage you to do your best and persevere.
Add Resistance and Balance Training
As you age you lose muscle mass, and falls become a higher risk. Getting resistance and balance training helps you maintain your strength and balance. You need to give extra training to maintain the muscle mass which you already have. With extra effort, you can remain active and agile for many years ahead.
Tailor Your Workout to Fit Your Mood
Pent up energy? Try cardio. If you want a break from being inside all day, go outside for a run. If you have zero energy, try stretching. When you have lots of energy and are feeling strong, lift weights. Having a gym buddy will keep you motivated! Make your workout suit your mood!
Track Your Progress – Keep a Journal
By tracking your daily activities, you will see just how much exercise and how many calories you get in each day. Sometimes it may come as a surprise to see how much our activity is over or under what we expected it to be.
You can use an app like My Fitness Pal, or you can keep track of it with pen and paper in a journal.
Some apps tell you how many steps you have taken, how many calories you have burned as well as sleep, and heart rate among other things. So, wear a fitness tracker and remember to keep it charged!
Exercise Equipment that Works Well at Home
"As an Amazon Associate I earn from qualifying purchases."
Exercise Bike
Treadmill
Rowing Machine
Elliptical
Resistance Bands
Stability Ball
Workouts Without Equipment
Leg exercises
Arm exercises
Squats, Lunges
Triceps Dips
Glute Raises
Raise your heart rate, work up a sweat, get out of breath, work your muscles to get a good general workout.
In Conclusion
Get fit, get motivated, get moving to increase your fitness levels. It helps to make conscious goals, remind yourself of positive affirmations, and have a workout buddy with a fitness schedule.
Sometimes just putting on your exercise clothes is motivation to get moving. A gym buddy gives you someone to compete with. Make small consistent changes and do something you enjoy doing. Workout music helps keep the tempo going.
You can get motivated, get fit, get moving by exercising to your favorite programs. Consider using a personal trainer and embrace your competitive side. Add resistance and balance training, make your workout suit your mood, and track your progress. You will be amazed at the results you will achieve.
Please Leave a Comment!
I would love to hear from you. How do you motivate yourself to get in your fitness training when "the sun is not shining" and you'd rather stay in bed? Do you have good ideas that I haven't touched on?
---
Disclaimer: I am not a doctor. If you have any concerns or questions about your health, you should always consult with a physician or other healthcare professional. No content on this site should be substituted for direct medical advice from your doctor or other qualified healthcare practitioner. The information contained here is for informational purposes only. It is from my research and personal experience.