Kettlebells are a great way to improve your strength, endurance, and balance. In this article, we'll discuss how to choose the right kettlebell for your needs, what a kettlebell can do for you, and the benefits of having an instructor. When it comes to choosing the right kettlebell, there are a few things to consider. First think about your fitness goals, and what you hope to achieve by using a kettlebell.
If you're a fitness beginner and looking for a low-impact workout, there a few things to consider before making your purchase. Begin with a lighter weight kettlebell until you learn the proper technical movements. More experienced athletes can go for a heavier kettlebell. Also, the size of your hands determines the size of the kettlebell handle you want.
---
In a Hurry Table
| | |
| --- | --- |
| Kettlebell | Description |
| | 5, 10, and 15 lb weights with Rack. Durable HDPE material, cement filled – will not rust. Wide, non-slip handles. Color-coded weights for easy identification. |
| | Ergonomic Handle – Adjustable from 8 to 40 lbs. Replaces weight of 6 Kettlebells. JRNY app is required (can cancel before trial ends) Dimensions: 8.8"L x 7"W x 12.5"H |
| | Vinyl-Coated – for smaller hands – High-quality cast iron, no welds, or seams. Slightly textured handle. Flat bottom for stability. |
| | Vinyl Coated – Cast Iron – Gently curved, wide handle with textured grip. Dimensions: 7"L x 4.5"W x 7.7"H |
---
This post contains affiliate links. If you click on and purchase through one of those links, you won't pay a penny more, but we'll get a small commission, which helps keep our website operating. Thanks! As an Amazon Associate, I earn from qualifying purchases.
---
Before trying any new exercise first consult with your healthcare provider to see if it is right for you.
---
Why Use a Kettlebell?
There are many benefits to using a kettlebell, which is why this type of equipment is becoming increasingly popular among fitness enthusiasts. Kettlebells offer a great way to improve your strength, endurance, and balance. They are a versatile piece of equipment that can be used in a variety of different exercises.
If you are new to using kettlebells, it's important to start slowly and gradually increase the weight as you become more comfortable with the movements. This will help you avoid injuries and ensure that you are using the proper technical movements.
---
---
Understand the Benefits of Choosing the Right Kettlebell
Kettlebell training offers several benefits for both fitness enthusiasts and those who work out regularly. These benefits include:
Increased strength
Endurance
Flexibility
Balance
Coordination
Cardiovascular conditioning
Kettlebells are portable, relatively inexpensive, and extremely effective. These simple, low-impact exercises can build strength and burn fat, while giving you challenging aerobic exercise. A host of low-impact moves build strength throughout your entire body.
Is the Kettlebell a "Low-Impact" Exercise?
"Low-impact basically just means putting less physical stress on the joints," says Pete McCall, a certified strength and conditioning specialist (CSCS). Movements that don't subject your joints to that impact force from the ground can be considered low-impact. Exercise done with both feet on the ground has the lowest impact of all.
---
PRISP 3-Piece Kettlebell Weight Set – Economical, 5lb 10lb 15lb Free Weights with Rack This set of 3 kettlebells, is made of durable HDPE material, and filled with cement. This long-lasting set of weights will not rust. The wide handles provide a safe, non-slip grip for a comfortable training experience. Color-coded weights provide easy identification, and the rack provides easy storage.
---
How to Choose the Right Kettlebell
The weight of the kettlebell you choose will depend on your fitness level and the specific exercises you are planning on doing. If you're a beginner, it is best to start with a lighter weight and gradually increase the weight as you get stronger. For more experienced athletes, a heavier kettlebell will provide a greater challenge and help you see results more quickly.
When choosing a weight, it is also important to consider the type of exercise you'll be doing. For instance, if you're planning on doing swings, it's important to choose a weight that's not too heavy or too light. If the weight is too light, you won't get the full benefit of the exercise. If it's too heavy, you risk injuring yourself.
---
Bowflex SelectTech 840 Kettlebell Adjusts from 8 to 40 lbs. This has an ergonomic handle and replaces 6 kettlebells. Weight selection dial easily adjusts from one exercise to another. 8, 12, 20, 25, 35, and 40 lbs. On-demand full body strength classes available on JRNY app (app is required – and automatically renews when trial ends, unless cancelled 48 hours before trial end date.) Exercise targets your arms, shoulders, abs, chest, back, and legs. Dimensions: 8.8"L x 7"W x 12.5"H
---
What Size Kettlebell Should I Choose?
Kettlebells come in different sizes, so it's important to choose one that's the right fit for your hand. If you have small hands, it might be more difficult to grip a large kettlebell. This could lead to injuring yourself. Conversely, if your hands are too large for the kettlebell, it could slip out of your grip during an exercise.
The size of the kettlebell also affects the type of exercises you can do. For instance, if you choose a very small kettlebell, you might not be able to do some of the more advanced exercises. On the other hand, if you choose a very large kettlebell, it might be difficult to control during certain movements.
How to Know if You're Using the Right Kettlebell?
If you're unsure if you're using the right kettlebell, there are a few things you can look for.
First, make sure that the weight is appropriate for your fitness level and the exercises you're doing.
Second, check that the size is comfortable for your hand and that you can grip it securely.
Finally, ensure that the kettlebell is stable and won't slip during the exercises.
How Strong Are You?
If you have a hard time carrying a gallon jug from the car into the house, you may want to start with the smallest kettlebell. If you are quite overweight, you are probably stronger than you think you are since you are carrying the extra weight around, so, you might want to start with a heavier size.
If you can lift a kettlebell, from close to chest/shoulder height and bring it overhead 10 times, the kettlebell is too light. You should try a heavier kettlebell.
---
Yes4All Vinyl Coated Kettlebell Weights – Personal Certified Trainers who use kettlebells regularly, recommend these kettlebells for smaller hands. They are high-quality cast iron construction with no welds or seams. A durable, vinyl coated finish prevents corrosion, increases durability, reduces noise, and protects flooring. It has a flat bottom for stability, and a slightly textured handle.
---
Find a Good Instructor and Practice Proper Technique
The kettlebell swing is all about hinging at your hips, says Ebenezer Samuel, C.S.C.S. You must learn to do it correctly. Don't settle for anything other than perfect form. It is an essential yet simple exercise that is at the center of your training. You need to keep your abs tight. Your body follows the bell. Do it in good form to prevent injuring yourself.
Kettlebells come in different sizes. A smaller hand can use a smaller handle. If you have larger hands, you may want to consider a kettle bell with a wider handle for safety and an easy grip. If you're unsure of what size to get, it's always a good idea to consult with a professional or ask a friend who is familiar with kettlebells.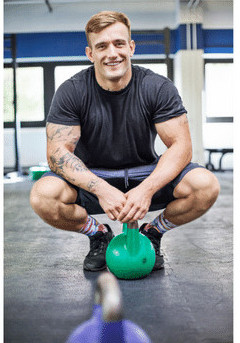 Just Stand Up and Squeeze
Eb says: The actual motion creating the action is smaller than you think. Don't think of it as a swing. Exaggerate your glute squeeze, and your torso will naturally pop up and the bell will move forward.
"The key to a good kettlebell swing is effectively thrusting the hips, not bending too much at the knees and sending the weight forwards, as opposed to squatting the weight up, or lifting up with the arms. This requires an intense contraction of the gluteal, abdominal and latissimus muscles."
---
Amazon Basics Vinyl Coated Cast Iron Kettlebell Weight – This kettlebell is vinyl coated, and shows the weight at a glance. The vinyl coating protects floors, reduces noise, and prevents corrosion. The comfortable, secure, gently curved, wide handle, has a textured grip to hold in one hand or two. 7"L x 4.5"W x 7.7"H
---
FAQs
What Size Kettlebell Should I Use?
First consider what type of workouts you will be doing. Your lower body is stronger, so lower body exercise can use a heavier kettlebell. It depends on your individual strength, physical condition, and your goals. Begin with a lighter kettlebell, and add weight as you learn technique and get stronger. Each person is different so it depends what works best for you.
Will Kettlebell Swings Tone My Arms?
Your arms will get a great workout as well as the rest of your body.
Will Kettlebell Swings Burn Belly Fat?
Kettlebell exercises are an intense total body workout. It will increase your strength as it tones your muscles. By burning calories you will lose weight – including belly fat.
---
How to Choose the Right Kettlbell
Choosing the right kettlebell is an important part of getting the most out of your workouts. Be sure to consider your fitness goals and choose a weight and size that's appropriate for you. With a little practice, you'll find the perfect kettlebell for your needs!
In Conclusion
There are many different types of kettlebells on the market, and it can be difficult to know which one is right for you. If you're a fitness beginner, or if you're a senior citizen looking for a low-impact workout, keep in mind these few things before making your purchase.
In this article, we discussed how to choose the right kettlebell for your needs, the benefits of using a kettlebell, and the benefits of an instructor to teach you proper form. Hopefully, you are now equipped with the knowledge you need to make an informed decision about which kettlebell is right for you.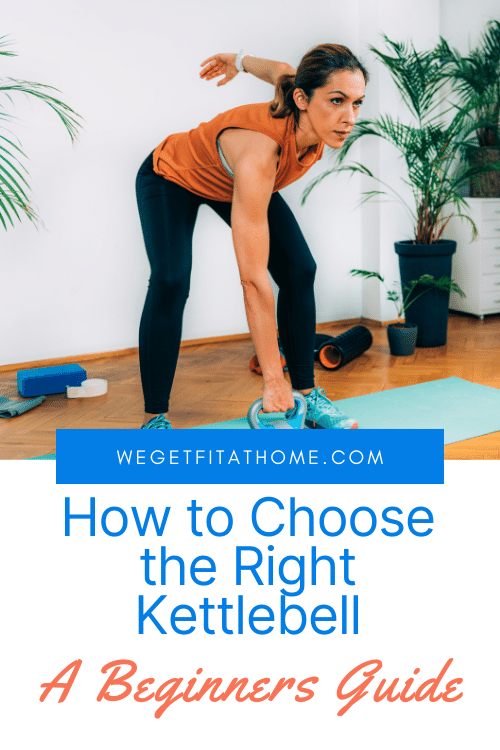 ---
Disclaimer: If you have any concerns or questions about your health, you should always consult with a physician or other healthcare professional. No content on this site should be substituted for direct medical advice from your doctor or other qualified healthcare practitioner. The information contained here is for informational purposes only. It is from my research and personal experience.
---
Related Articles
What Are Kettlebells, and Are They Safe? 
Can You Prevent Muscle Loss as You Age?